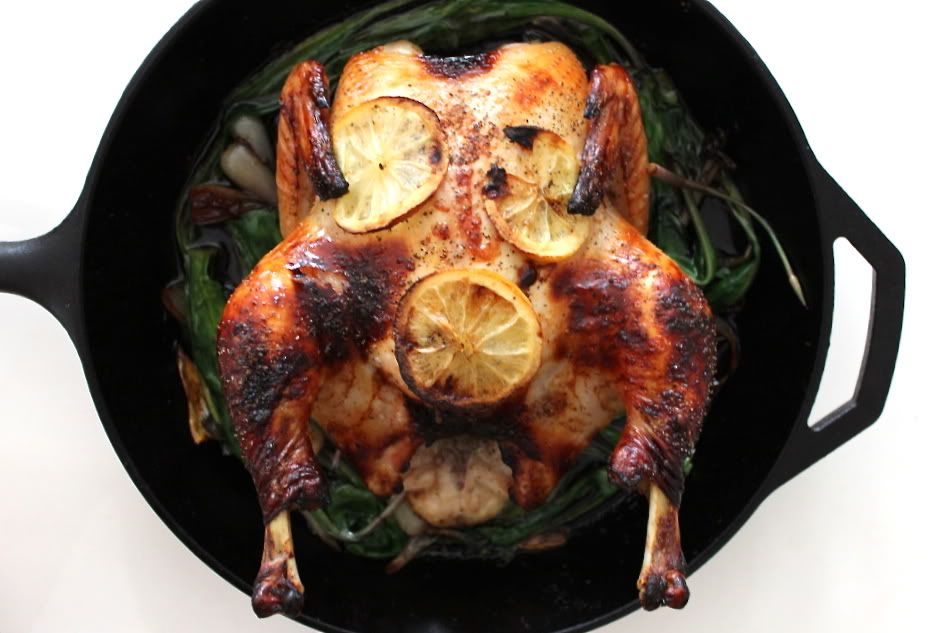 This spring-infused roast chicken has officially made it into my roast chicken rotation. And that's a big honor. I roast a lot of chickens, many of which I like very much. But few make it into The Rotation. There are just too many methods to try, too little time. So when I'm eager to roast a chicken the same way over and over on a consistent basis, it's got to be
really
good. And that's exactly what this little bird is.
First, it's washed and wiped down inside and out with paper towels until it's bone dry (that's the trick to perfectly crisp skin). Then it's slathered in a delicious mixture of fresh lemon juice, honey and olive oil, and stuffed with big wedges of lemon. After a stint in the oven, ramp bulbs are tossed into the piping hot pan juices and back in it goes, until your entire apartment smells like the most heavenly mixture of lemons and honey, chicken and ramps. After about 10 minutes or so, the green ramp leaves are mixed into the juices until thoroughly wilted and tender, ready to be devoured along with big bites of juicy chicken with the occasional satisfying snap of salty, savory chicken skin. It's the perfect spring dinner, and I hope you'll give it a go. xo
Roast Chicken with Ramps, Lemon, and Honey
Serves 4
Ingredients:
1
4-pound organic chicken
1/4
cup
extra-virgin olive oil
2 tablespoons fresh lemon juice
1 1/2
tablespoons
honey
1
lemon, halved, one half sliced into 4 very thin rounds
1 bunch fresh ramps
5 garlic cloves, peeled and smashed
Kosher salt and freshly ground black pepper
Directions:
Preheat oven to 375°.

Whisk 1/2 cup oil, lemon juice, and honey in a small bowl to blend. Using your hands and beginning at the neck end of chicken, lift skin away from breast. Slather lemon mixture under skin and all over the outside of the chicken and rub it in well.

Place 1 lemon half inside the chicken cavity. Season chicken all over with salt and pepper and arrange 4 lemon rounds on top of each chicken. Drizzle chicken with remaining a bit of extra olive oil, about a tablespoon or so.

Place chicken into a 12-inch cast iron skillet and roast, basting frequently with pan juices, for 45 minutes.

Meanwhile, prep the ramps: trim the hairy bottoms and remove the outer layer of skin. Separate the leaves from the bulbs, rinse both gently and pat dry. Cut any fat bulbs in half lengthwise. Tear the leaves into large pieces.

Take chicken out of the oven and toss ramp bulbs (not leaves) and garlic into the skillet. Stir to coat them with pan juices. Increase oven temperature to 425° and continue roasting until an instant-read thermometer inserted into the thickest part of the thigh registers 165° and skin is deep golden and crispy, about 10 minutes longer.

Spoon pan juices over chicken, and serve, dividing chicken pieces and ramp bulbs and leaves equally.