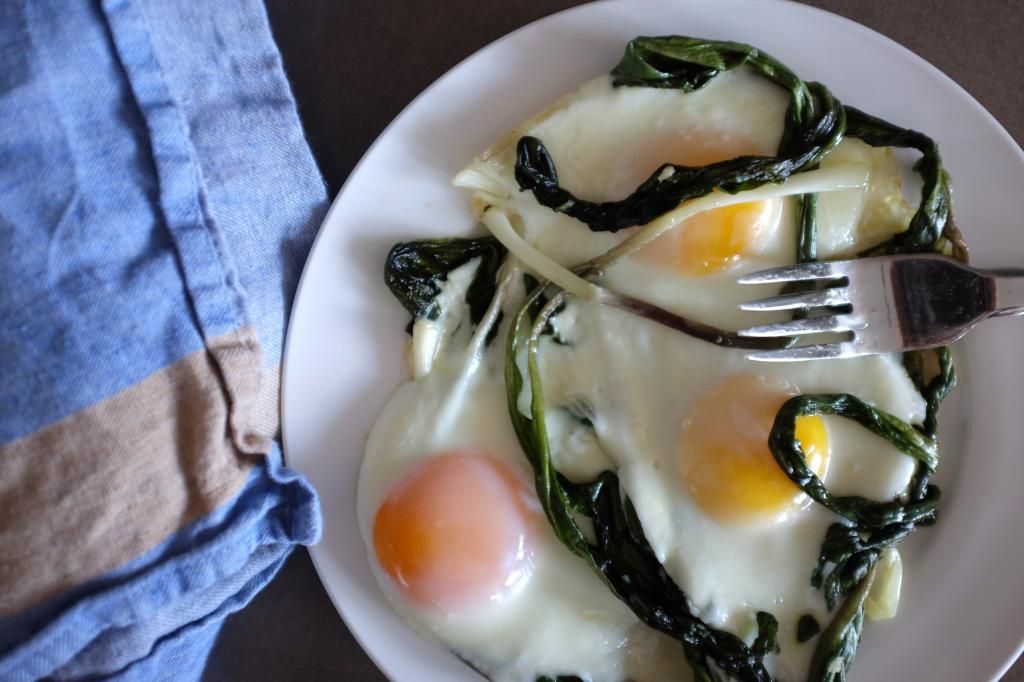 Last ramps recipe of the season to appear on this here blog (tear). But! It's a good one. Ramps are often best when prepared as simply as possible, as in this case where they are gently wilted in olive oil and then combined with super fresh organic eggs. Such a good, easy breakfast for spring. And speaking of seasons, can you guys believe that summer is on our proverbial doorsteps? Every time the weather warms up here in New York, I'm reminded that I'll always be a beach girl at heart. I trick myself into thinking I love winter (likely as a survival mechanism), but all my years growing up in Hawaii have ruined me for life, I suspect.
Ramps and Eggs
From Buvette: The Pleasure of Good Food, by Jody Williams
Ingredients:
3 tablespoons extra-virgin olive oil
1 small bunch ramps, root ends trimmed and discarded, thoroughly washed
Coarse salt
3 large eggs
Directions:
Preheat the oven to 400 degrees. Warm the olive oil in a medium skillet over medium-high heat. Add the ramps and a large pinch of salt. Cook, stirring occasionally, until the ramps just begin to soften, about 5 minutes.
Gently crack the eggs into the pan directly alongside the ramps and place the pan in the oven (alternatively, you can reduce the heat to low and cover the pan with a lid). Bake until the egg whites are just set and the yolk retains a bright yellow color, about 5 minutes. Serve immediately, sprinkled with additional salt.