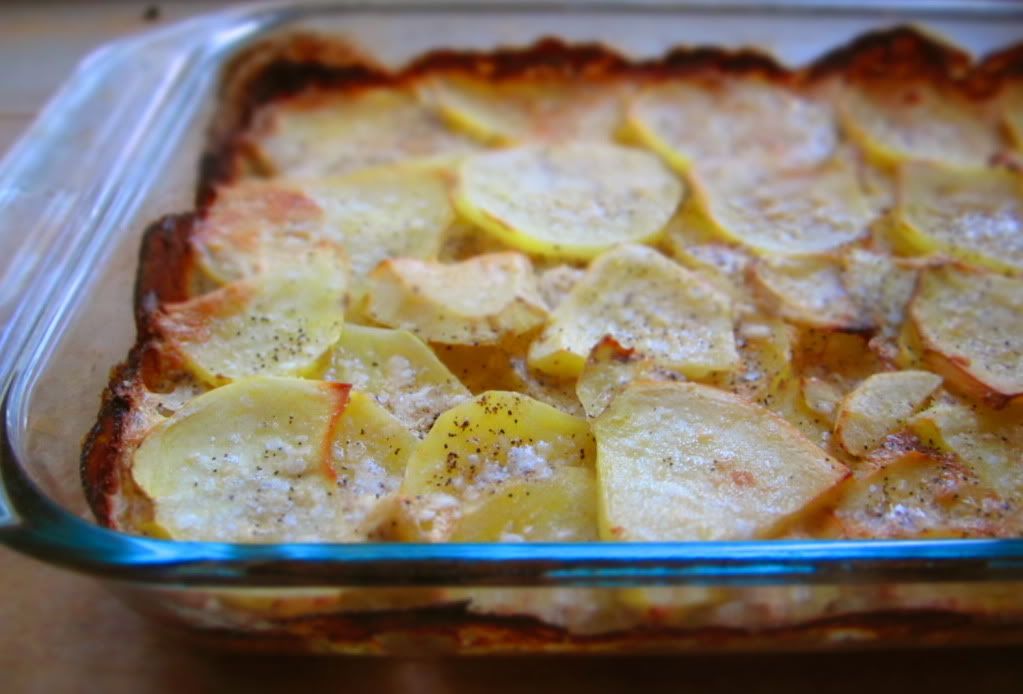 While I was in Miami last weekend, I spent the majority of my waking hours laying around by the pool with my nose buried in Ruth Reichl's memoir of being the NY Times restaurant critic,
Garlic and Sapphires.
I finished it in two days flat, and when I was done, I felt a little wistful, as though a part of me regretted having gone through it so quickly. Needless to say, I loved it. The way Reichl describes food is second to none--she makes you feel as if you're right there with her taking the same bite of handmade soba, or foie gras and strawberries, or as in the dish I've made here, the creamy, peppery scalloped potatoes she includes in a special dinner for her family.
I tested this recipe last night, tweaking it a bit to make it my own, in preparation for a little steak dinner a deux I'm whipping up later this evening. They turned out absolutely delicious--rich, buttery, lush with soaked up milk, and satisfyingly crisp at the edges. They're just the thing to have as an accompaniment to any meat dish--roasted lamb, a pork shoulder, or a perfectly dry-aged rib-eye steak, as I'm making tonight. xo
Scalloped Potatoes
Ingredients:
1 clove garlic, sliced in half
3 tablespoons butter, plus a pat extra for buttering your gratin dish
4 large yellow potatoes, peeled (make sure to get the waxy skinned ones--russets fall apart too easily)
Kosher salt and freshly ground black pepper
1 1/2 cup whole milk
1/4 cup grated Parmesan cheese (Gruyere works well here too)
Directions:
Preheat the oven to 350 degrees. Rub a 9 x 12-inch gratin dish all over with both halves of the garlic clove. Grease the dish with the pat of butter. Slice the potatoes as thinly as you can and arrange them in a layer, overlapping the edges slightly like shingles. Sprinkle the potatoes generously with salt and freshly ground pepper, and a third of the cheese. Repeat this process with your remaining potato slices. Depending on how thinly sliced your potatoes are, you should end up with approximately three layers, with a third of the cheese between each layer. Reserve the last third of your cheese for later.
Carefully pour the milk over the potatoes. It should come up to the bottom of the top layer of potatoes; add more if this is not enough. Dot the top of the gratin with the three tablespoons of butter and bake it for about an hour and 15 minutes, taking it out of the oven every 30 minutes to press the top layer down gently with a spatula to keep it moist. Sprinkle the remaining cheese on top of the gratin for the last 15 minutes of baking. The gratin is done when the potatoes are soft and the top is golden brown. Let the dish sit for about 10 minutes before serving.