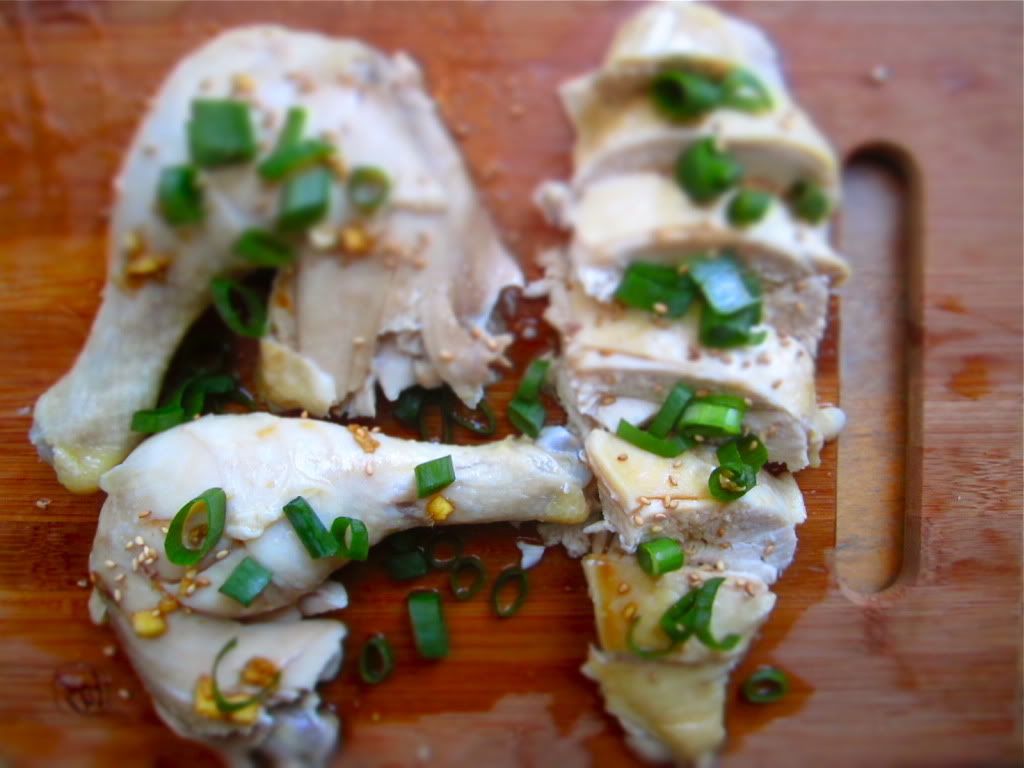 When I first heard it, the idea of steaming a whole chicken seemed downright silly to me, even if the idea did come from one of my most trusted sources, Melissa Clark of The New York Times.
Why would I want to eat a tasteless steamed chicken, when I can just as easily eat a golden brown, crisp-skinned, roasted one?
, I thought to myself, scoffing at very notion of it. And then one day, in the middle of a busy work session, I ordered it to be delivered off of a coworkers takeout Thai menu. The steamed ginger chicken seemed like a safe bet from a place I'd never eaten at, and truth be told, I had my head buried so far in a new client proposal, that I barely glanced at the menu before making a split second decision.
I think you all probably know how this story ends. When my order came, the scent of warm ginger wafted out of my little takeout container, successfully tearing me away from my laptop for long enough to pay attention to the first, tentative bite I took. And what a bite it was. Not to glorify takeout Thai or anything, but the chicken was fall-off-the-bone tender, fragrant, and perfectly seasoned. I dug the New York Times recipe up on the Internet right then and there and vowed to try this steamed chicken business asap. And here are the delicious results. Try it for yourself and see--I'll always love roast chicken, but the bones on this bird were clean as a whistle by the time we were done with it, not a leftover in sight. xo
Sake Steamed Chicken with Ginger and Scallions
From The New York Times
Ingredients:
1 3 1/2 pound chicken, rinsed and patted dry
1 1/2 cups dry sake
Kosher salt
2 tablespoons soy sauce
2 tablespoons orange juice
2 teaspoons rice vinegar
1 1/2 teaspoons lemon juice
1 1/2 teaspoons mirin or sweet sherry
1 tablespoon chopped ginger root
1 large garlic clove, minced
3 thinly sliced scallions
2 tablespoons sesame seeds, preferably black
Directions:
Place a steamer basket in the bottom of a large stockpot. Pour in equal amounts of sake and water, enough to reach the bottom of the steamer basket. Bring to a boil.
Generously salt the chicken inside and out; set breast side up in the steamer basket. Reduce the heat to low and cover. Steam the chicken until the juices run clear when pierced with a knife, about 1 to 1 1/2 hours. Turn off the heat and allow to cool for about 20 minutes.
To prepare the sauce, in a small bowl whisk together the soy sauce, orange juice, rice vinegar, lemon juice, mirin, ginger and garlic.
Remove the chicken from the pot and place on a large cutting board; carve and set pieces on a platter. Spoon some of the sauce over the meat and sprinkle with scallions and sesame seeds. Serve extra sauce on the side for dipping.