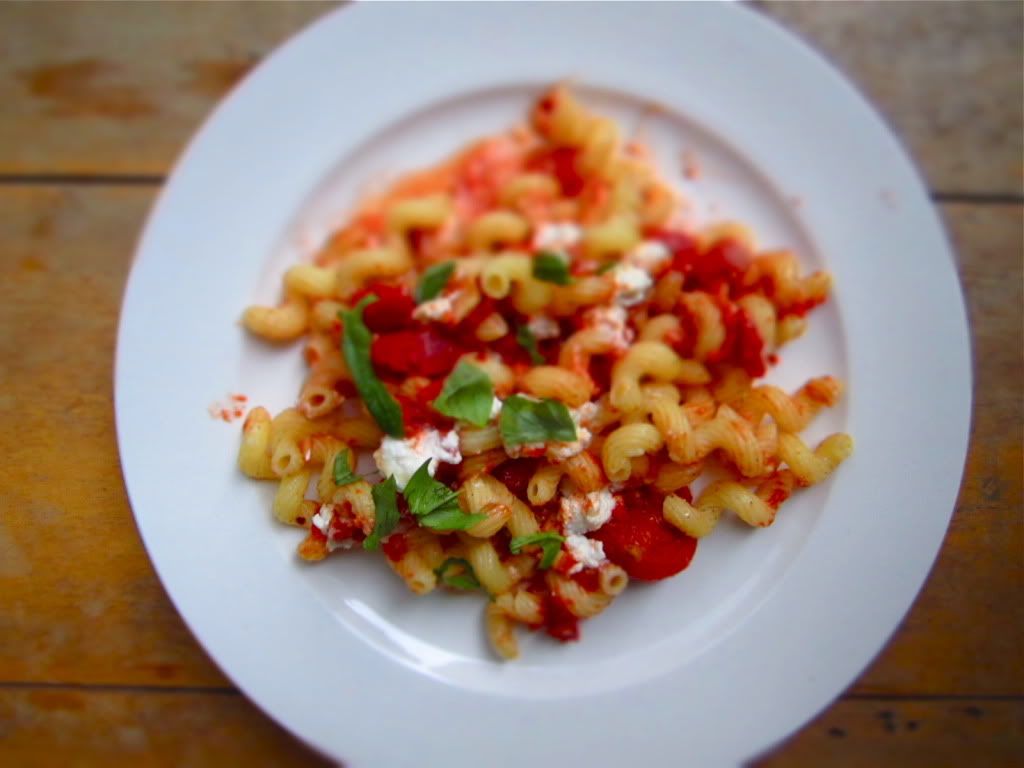 One place I'm dying to visit is Sicily; all the different types of cooking that vary from village to village, the lively markets, the coastline, the wineries, the fresh and simple cooking...it all sounds so perfect, doesn't it? This timballo is a classic Sicilian pasta dish that is reserved for formal occasions, but here in my tiny little kitchen in NYC, I decided that a random rainy Tuesday night was special enough to bake it up. I suggest you do the same. It's just too good to wait for.
The dish comes out of the oven piping hot with steaming heaps of warmed fresh ricotta intermixed with bright, zingy tomato sauce; it's one of the best baked pastas I've ever made (and yes, that includes my
mac and cheese
, which I think it's directly on par with). Invite a bunch of friends over and share it this weekend. P.S. Happy Friday. xo
Pasta "Timballo" with Fresh Ricotta
Adapted from Heart of the Artichoke and Other Kitchen Journeys, by David Tanis
Ingredients:
1 pound anelli pasta (I couldn't find anelli pasta, so I used the fun squiggly shape above)
Olive oil
Salt and pepper
Red pepper flakes
4 cups Tomato Sauce (my recipe follows)
1 pound best-quality fresh ricotta, at room temperature
Grated pecorino
A handful of basil leaves, roughly chopped
Directions:
Bring a big pot of salted water to a boil. Preheat the oven to 350 degrees. Boil the pasta for about 1 minute less than the package instructions say; it should be firmly al dente. Drain the pasta and put it into a large bowl. Drizzle with a little fruity olive oil, and season to taste with salt, black pepper, and red pepper flakes.
Meanwhile, heat the tomato sauce. Have a large, deep ovenproof platter ready. I used a 9 x 13 glass baking dish.
Spoon about half the sauce into the platter and stir half of the ricotta into the sauce, leaving it rather lumpy. Pile the pasta on the sauce on the platter, and spoon the rest of the sauce on top of the pasta. Top with spoonfuls of the remaining ricotta and sprinkle with grated pecorino. Put the platter in the oven for about 10 minutes, to heat through completely. Sprinkle with basil, and serve more pecorino on the side.
My foolproof homemade tomato sauce I've been making forever. I found the recipe originally on Goop: In a large saucepan, slowly cook six cloves of thinly sliced garlic in a couple tablespoons of olive oil for five minutes over low heat. Add two large, fresh basil leaves and stir for a minute. Add two 28-ounce cans of whole, peeled tomatoes along with their juice and two more whole basil leaves. Bring the sauce to a boil, turn down the heat, season with salt and pepper and let it bubble away on low heat for 45 minutes. Cool and refrigerate.