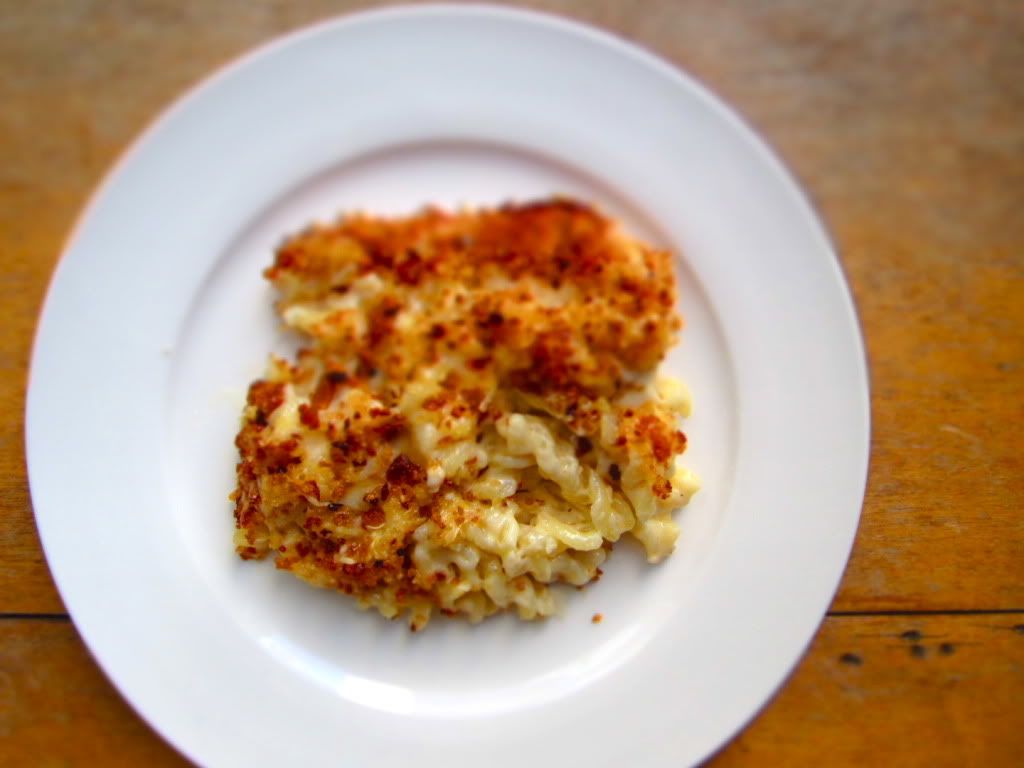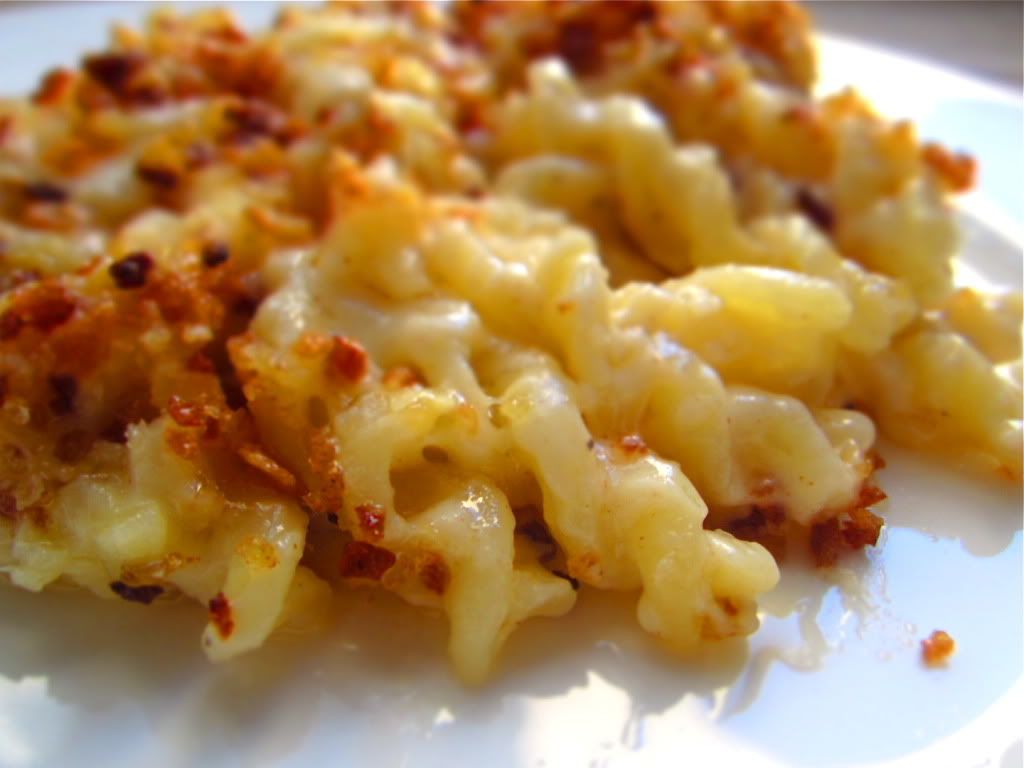 Whenever the weather gets especially cold or I'm feeling a little down and out for whatever reason, I resort to my comfort foods. I think they're different for everyone, but mine include matzo brie, good fried chicken, and loads of chocolate. And then there's the universal favorite, mac and cheese. Mac and cheese. Just typing it out makes me feel all warm and coddled. It's such a simple dish with such disproportionately outsized powers to soothe away the blues. However, so many recipes seem to get it wrong--they use a million different fancy cheeses, weird types of bread crumbs, drown the thing in truffle oil (not that there's anything wrong with truffle oil--it's just not for every dish in the world, as some misled people seem to believe), etc.
Like most things in life, if you keep mac and cheese simple and true to what it was meant to be, you'll get the best results. And there you have it: the non-secret secret to the famous recipe behind DuMont's mac and cheese, aptly titled Dumac and Cheese. DuMont is a great little restaurant in Brooklyn known for their flawless execution of those very comfort foods I've been going on about--a perfect burger, crisp french fries, and this here mac and cheese. I made it for myself over the weekend and immediately brought a steaming plate piled high down to my doormen, who polished it off within seconds. "The best mac and cheese I've ever had," proclaimed one. The others were too busy eating to do anything but nod wholeheartedly in agreement. And it really is one of the best: creamy and luscious with a satisfying crunch to the crust, it's perfect for sharing with a big group of friends on the coldest day of the year. xo
Dumac and Cheese
Adapted from The New Brooklyn Cookbook, by Melissa Vaughan & Brendan Vaughan
Ingredients:
1 lb fusilli
2 tablespoons extra-virgin olive oil
2 cups whole milk
2 1/2 cups heavy cream
1 stick unsalted butter
1/2 cup all-purpose flour
1/2 lb Gruyere, grated, divided
1/2 lb sharp white cheddar, grated, divided
Coarse salt and freshly ground black pepper
1/2 cup unseasoned bread crumbs
Directions:
Preheat the oven to 400 degrees. Bring a large pot of salted water to boil and cook the pasta al dente, according to the package directions. Drain, toss with the olive oil in a large bowl, and set aside to cool.
Meanwhile, combine the milk and cream in a medium saucepan over medium-low heat; bring to a gentle simmer.
Melt the butter in a large, heavy-bottomed pot over medium heat. Add the flour and whisk until the flour is fully incorporated and the mixture is smooth. Continue mixing with a wooden spoon until the mixture is a pale golden color, about 4 minutes. Slowly add the hot milk and cream mixture to the flour mixture, whisking occasionally to keep the mixture from burning. Add half the Gruyere and half the cheddar and whisk until the cheese has melted and the sauce is smooth. Season to taste with salt and pepper.
Add the cooked pasta and toss well to combine. Pour the pasta into a buttered 9 x 13-inch baking dish. Top with the remaining Gruyere and cheddar and sprinkle with the bread crumbs (I add extra because I love my mac and cheese super crunchy on top). Bake for 20 to 25 minutes, or until golden and bubbly. Allow the mac and cheese to rest for 5 minutes before serving.