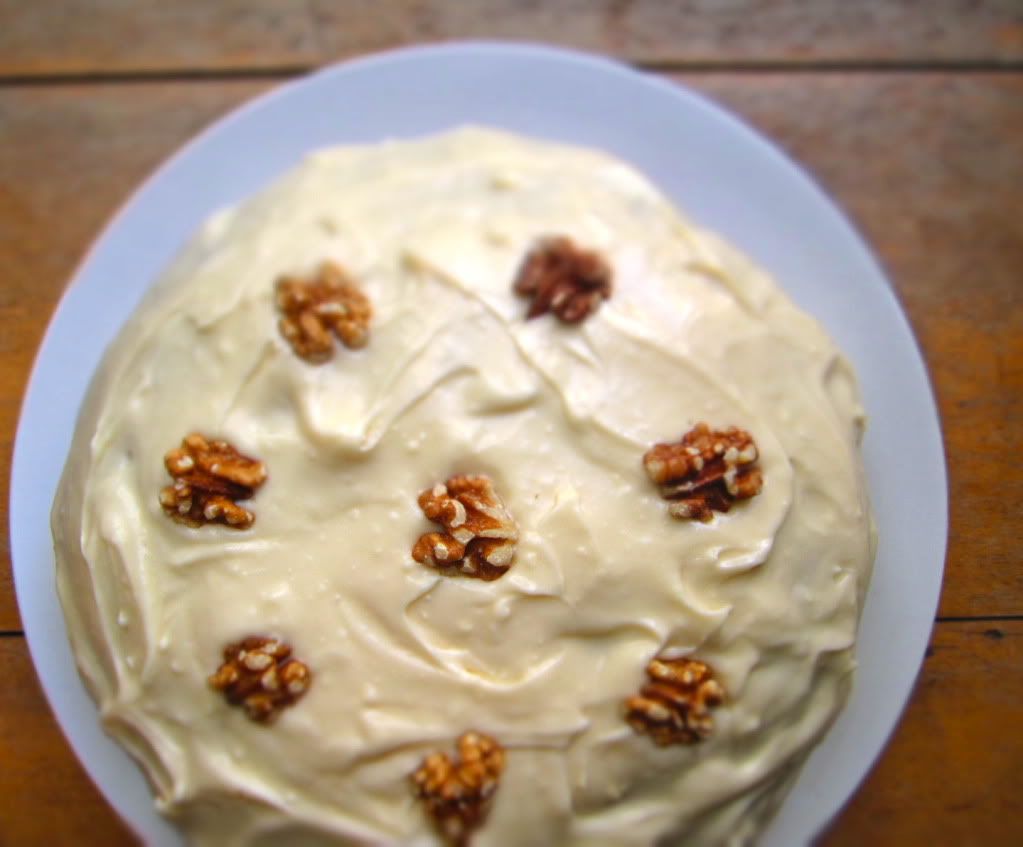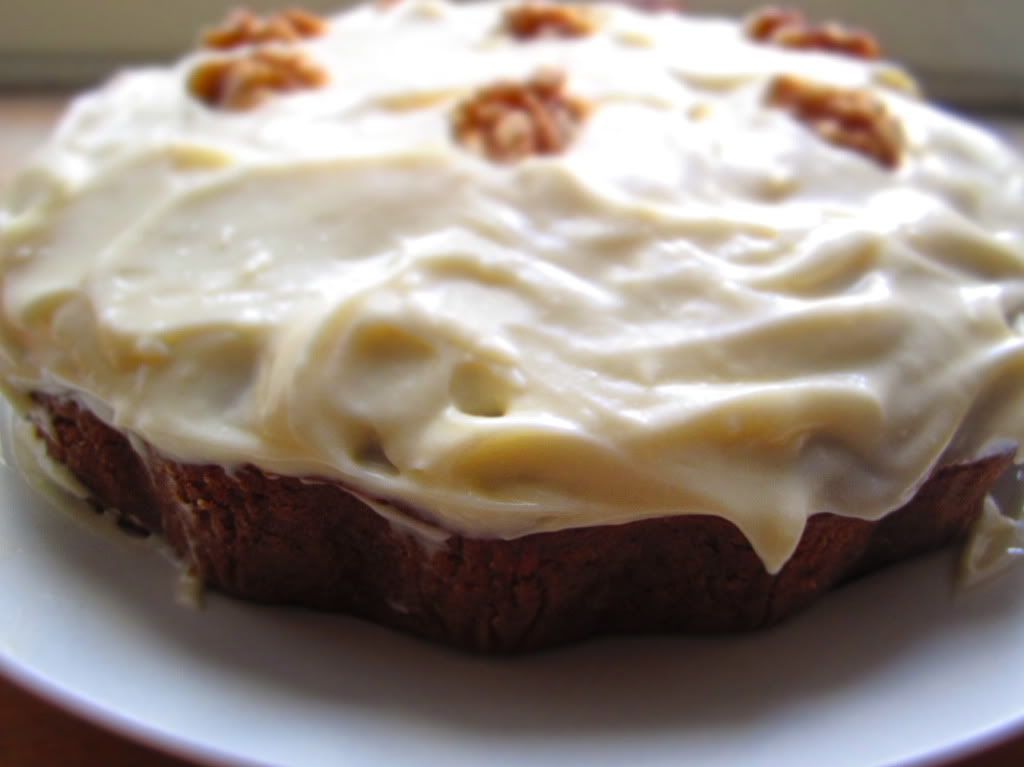 For three years, I lived exactly one dangerous block from Billy's Bakery in Chelsea. And while my roommate and everyone else I knew were wholehearted cupcake advocates, I was a sucker for their banana cake. The first time I tasted it, I swore that I'd have old-fashioned banana cakes slathered in a thick, cream-cheese frosting at my wedding. (Some girls fantasize about what their bridesmaids will wear, I dream about my wedding cake. Go figure.)
So when I found a recipe for banana cake that looked suspiciously like it could be verrrrry similar to the Billy's version I know and love, I pounced on it and made it that very morning, as I fortuitously had some overripe bananas hanging out on my kitchen counter. It's an easy single-layer cake with frosting liberally spread across the top, decorated simply with a scattering of whole walnuts. No assembly, no mess. As far as cakes go, it couldn't have been easier to put together.
I snuck a tiny little forkful of cake from the very top to make sure it tasted good, filled it in with an extra heap of frosting, and then did what anyone should do with good, whole cakes: I gave it away. xo
Old-Fashioned Banana Cake
Adapted from How Easy Is That, by Ina Garten
Ingredients:
3 very ripe bananas, mashed
3/4 cup granulated sugar
1/2 cup light brown sugar, lightly packed
1/2 cup vegetable oil
2 extra-large eggs, at room temperature
1/2 cup sour cream
1 teaspoon vanilla extract
Grated zest of 1 orange
2 cups all-purpose flour
1 teaspoon baking soda
1/2 teaspoon kosher salt
1/2 cup coarsely chopped walnuts
Cream cheese frosting (recipe follows)
Walnut halves, for decorating
Directions:
Preheat oven to 350 degrees. Grease and flour a 9 x 2-inch round cake pan.
Mix bananas, granulated sugar and brown sugar in bowl with an electric mixer on low speed until combined. Add oil, eggs, sour cream. vanilla and orange zest. Mix until smooth.
Stir together flour, baking soda and salt in a separate bowl. With mixer on low, add dry ingredients and mix just until combined. Stir in chopped walnuts. Pour batter into the prepared pan and bake for 45 to 50 minutes, until a toothpick inserted in the center comes out clean. Cool in pan for 15 minutes, turn out onto cooling rack and cool completely.
Spread frosting thickly on top of cake and decorate with walnut halves. Slice and serve.
Cream Cheese Frosting
Ingredients:
6 ounces cream cheese, at room temperature
6 tablespoons unsalted butter, at room temperature
1 teaspoon pure vanilla extract
2 1/2 cups sifted confectioners' sugar
Directions:
Mix cream cheese, butter and vanilla in the bowl of an electric mixer fitted with paddle attachment on low speed until just combined. Don't whip. Add sugar and mix until smooth.