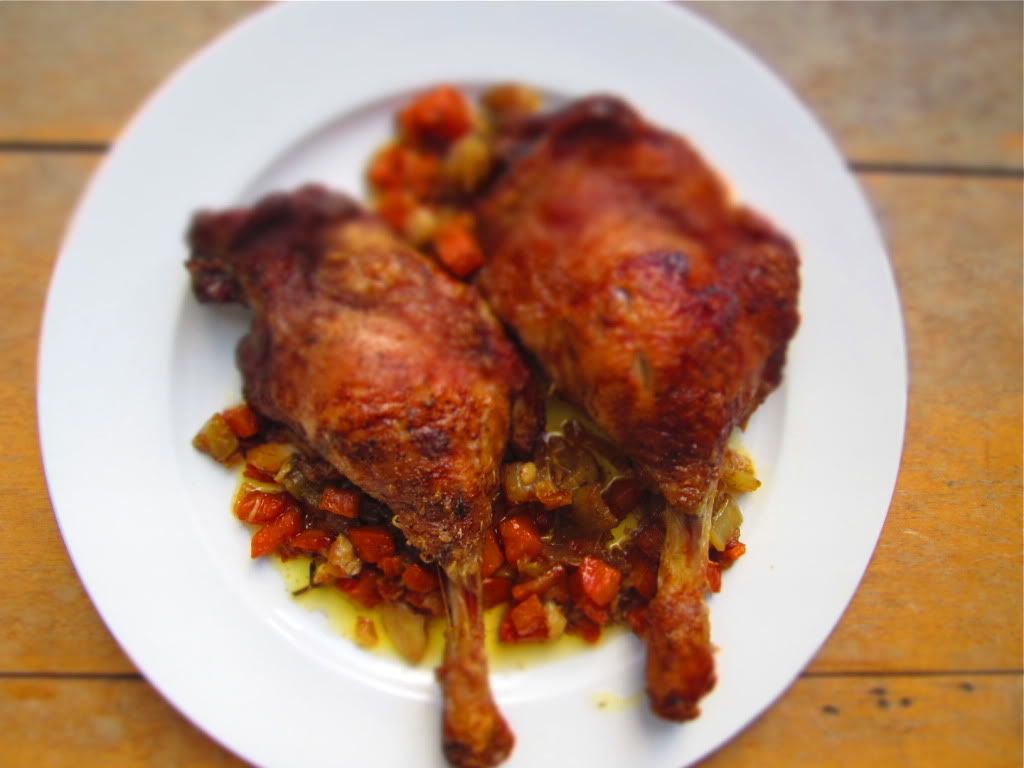 Through all the years I've been eating and cooking, I've had a strange relationship with duck. I've loved it fiercely, ordering it faithfully at restaurants and requesting that my mother cook it for countless dinners, but I've never had the guts to have a go at it myself. Duck, for me, has always been the boy you love from afar but don't quite know what to do with; the unattainable, bad one you're madly attracted to but know deep inside you can't really handle. With all of it's tender, fatty goodness, it's more indulgent and wicked than chicken, or any other bird for that matter. And I've always steered clear. Until this week, that is.
When I happened to stumble upon a Mark Bittman recipe that seemed both technically brilliant and stupidly simple, I decided that there's no time like the present to dive right in and see what I could do with the damn bird, to hell with doubt and caution. And you know what? Turns out there was nothing to be afraid of at all. I picked up some fresh Hudson Valley duck legs at Ottomanelli butcher shop in the West Village, followed all of Mr. Bittman's careful instructions to the letter, and produced a wonderfully fragrant, tasty dish that I'm already dreaming of making again. Because of Bittman's method of only filling the skillet halfway with the braising liquid, the duck comes out of the oven incredibly tender with a perfectly crackly, crisp skin to boot.
Just goes to show, sometimes facing your cooking fears (or that seemingly off-limits man) is exactly what you needed to do all along. xo
Crisp-Braised Duck Legs with Aromatic Vegetables
From The New York Times Essential Cookbook, by Amanda Hesser
Ingredients:
4 duck legs, trimmed of excess fat
Salt and pepper to taste
1 large onion
1/2 pound carrots
3 celery stalks
2 cups chicken stock
Directions:
Put duck legs, skin side down, in a skillet large enough to accommodate all ingredients comfortably; turn heat to medium. Heat oven to 400 degrees. Brown duck legs carefully and evenly, sprinkling them with salt and pepper as they cook. Meanwhile, peel and dice vegetables.
When legs are nicely browned, turn them over and sear for just a minute or two. Remove to a plate; remove all but enough fat to moisten vegetables. Add vegetables to skillet along with some salt and pepper. Cook over medium-high heat, stirring occasionally, until they begin to brown, 10 to 15 minutes. Return duck legs to pan, skin side up, and add stock; it should come about halfway up duck legs but should not cover them. Turn heat to high, bring to a boil, and transfer to oven.
Cook for 30 minutes, then lower heat to 350 degrees. Continue to cook, undisturbed, until duck is tender and liquid reduced, at least another half hour. The duck is done when a thin-bladed knife pierces the meat with little resistance. When done, duck will hold nicely in a warm oven for another hour. Serve hot.