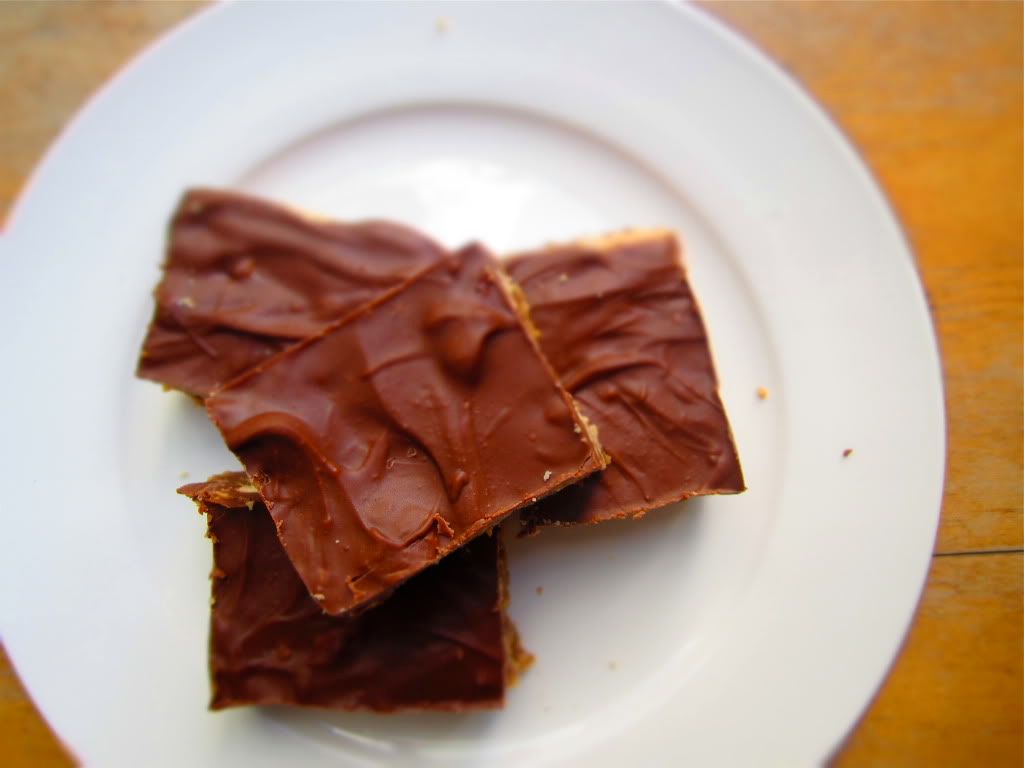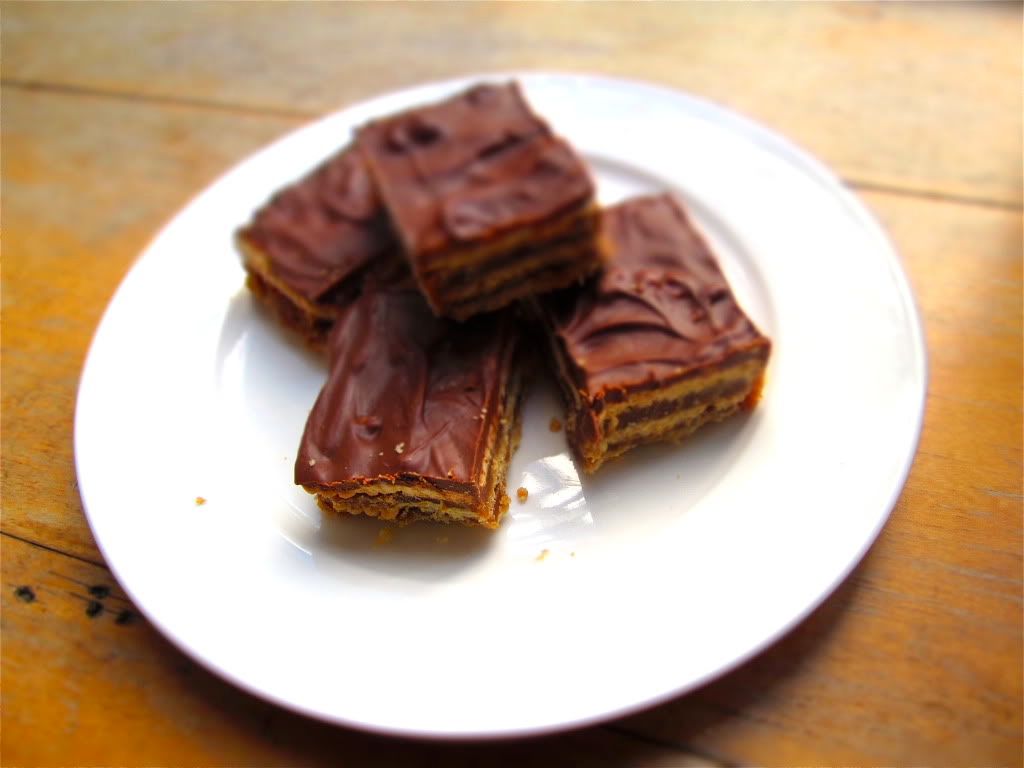 Perhaps it's a post-Halloween candy craving, but for the past week or so, I've taken to guiltily snatching up a Kit-Kat bar from Duane Reade just as I'm checking out and sneaking it into my toilet paper/toothpaste/body scrub selections (pesky impulse purchases). I grew up with a sweet tooth and an indulgent mother, so candy bars were pretty much a constant in my childhood existence, and therefore a pretty hard life-long habit to break. Basically, I love me some Kit-Kat bars.
So when I came across Paula Deen's recipe for a homemade version, I was all over it. It's not as easy as the recipe makes it seem--it takes a while to break the graham crackers into fine crumbs by hand and the caramel-like goop you have to spread between layers is super sticky and messes up your neatly laid out crackers, not to mention the fact that I went to three different grocery stores before conceding defeat to the fact that Keebler's Club crackers simply do not exist in lower Manhattan. By the time my bars were cooling in the fridge, I was grumpy and exhausted. But! Now, two days later, with a pan full of perfect little chocolatey, peanut-buttery, caramely bars of goodness stocked and ready to be eaten, I have to say I'm happy to have them. Plus, they're a no-bake dessert. Which I know a lot of you out there are fans of. Happy no-baking. xo
P.S. Side note: these treats are more of a cross between Kit-Kat bars, Twix bars and Mrs. Field's peanut butter dream bars, rather than a straight up Kit-Kat interpretation.
Homemade Kit-Kat Bars
Ingredients:
75 club crackers (I used Social Tea crackers--they were all I could find)
2 sticks unsalted butter
2 cups graham cracker crumbs (I used Honey Maid graham crackers)
1 cup firmly packed light brown sugar
½ cup whole milk
⅓ cup white sugar
⅔ cup creamy peanut butter
½ cup semi-sweet chocolate chips
½ cup butterscotch chips
Directions:
Line an ungreased 13x9 inch baking pan with 1 layer of crackers, cutting to fit.
In a large saucepan, melt butter over medium heat. Add cracker crumbs, brown sugar, milk, and sugar. Bring to a boil and boil for 5 minutes, stirring constantly. Remove from heat and pour half of the butter mixture over crackers. Place another layer of crackers evenly over butter mixture. Pour remaining butter mixture evenly over crackers. Top with remaining crackers.
In a small saucepan, combine peanut butter, chocolate and butterscotch chips. Melt over medium low heat, stirring constantly. Spread evenly over crackers. Cover and chill for at least 1 hour. Cut into bars and store into refrigerator.