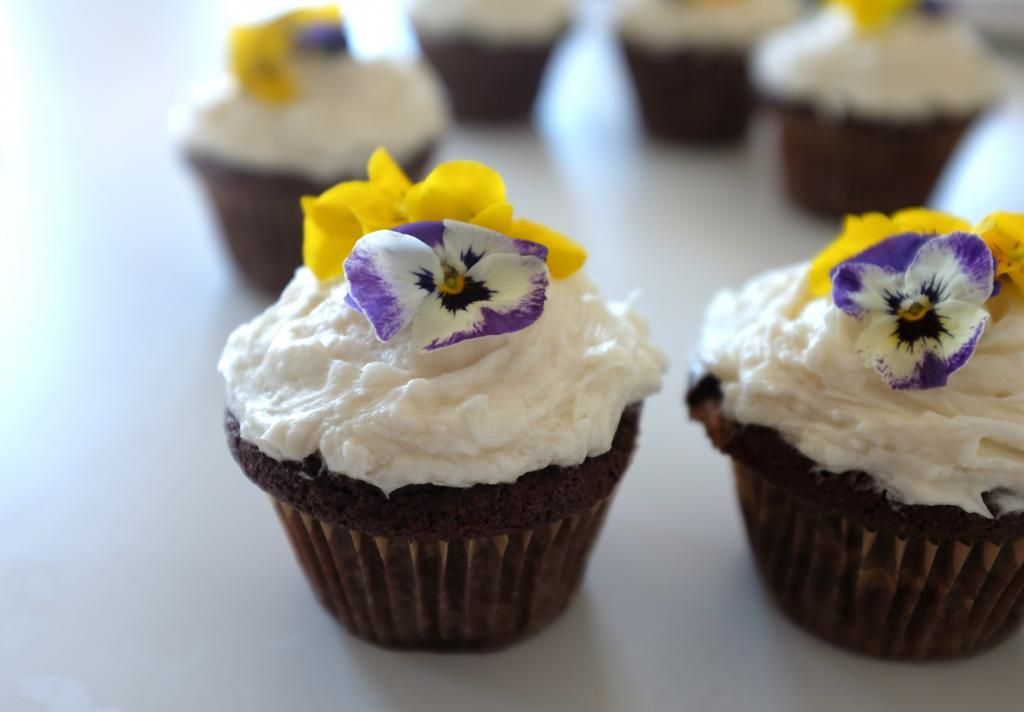 If you've got an insistent sweet tooth like mine, but also try to be conscious of excessive refined sugar intake, this recipe's for you. Not a drop of dairy is used in the entire affair, it's low in gluten, and there's zero refined sugar. Sounds like a recipe for cardboard cupcakes, no? Trust me, it's not. I'm not going to pretend that these taste exactly like their sugar and dairy-laden counterparts, but that's not the point here. They've got a deliciousness that's all their own, minus the unhealthy bits. Perfect for those times when you want to have something sweet, while still being kind to that fab body of yours. xo
Chocolate + Almond Cupcakes
Ingredients:
1/4 cup roasted almond butter
2 cups white spelt flour
1 cup high-quality cocoa powder
1 1/2 tablespoons baking powder
A pinch of fine sea salt
1/2 cup Vegenaise or vegetable oil
1 1/4 cup good-quality maple syrup, divided
1/2 cup brown rice syrup
1/2 cup strong brewed coffee
1/2 cup soy milk or rice milk
1 tablespoon pure vanilla extract
Directions:
Preheat the oven to 350 degrees. Sift the flour, cocoa, baking powder, and salt together in a large mixing bowl. In a separate bowl, whisk together the Vegenaise of oil, the syrups, the coffee, the soy milk, and the vanilla. Mix the wet ingredients into the dry ones, being careful not to overbeat (that's how you end up with a tough cupcake!).
Combine 1/4 cup roasted almond butter and 1/4 cup of the maple syrup and set the mixture aside. Line a standard 12-cup muffin tin with paper liners. Fill each muffin cup halfway with the brownie batter. Evenly divide the almond butter-maple syrup mixture among the muffin cups and top with the remaining batter. Bake at 350 degrees for 25 minutes. Let cool completely. Decorate with the Healthy Buttercream (recipe below) and a scattering of edible flowers if that's your thing.
Healthy Buttercream
Ingredients:
2 cups Spectrum organic shortening
1 cup tapioca starch
1 cup agave nectar (or grade A light maple syrup)
1 tablespoon pure vanilla extract
Directions:
Place all the ingredients in the bowl of an electric mixer and beat with the whisk attachment until light and fluffy. The frosting can be refrigerated for up to a month, but bring it back to room temperature and rewhip it before using.