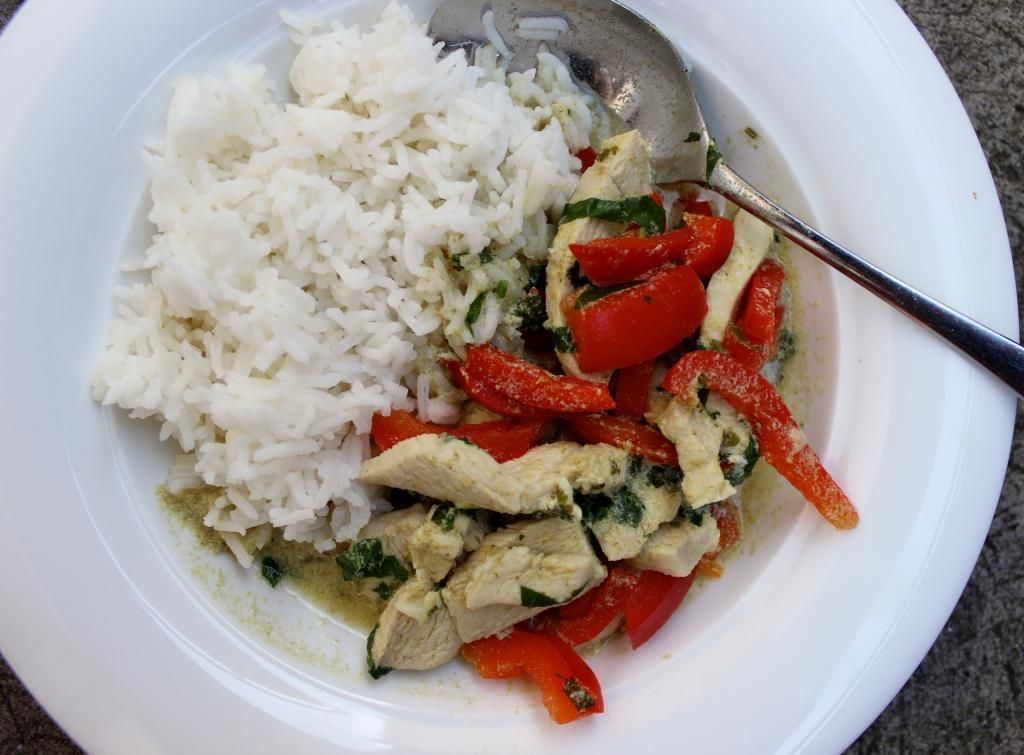 When I order in Thai food, I'm pretty consistent. As in, I've probably never ordered anything but green curry with either chicken or shrimp. What can I say--I'm a loyalist. And I just love that creamy, spicy, light green sauce flecked with cloudiness and bright bits of cilantro. When they get it right, it can be downright transcendent. But when they get it wrong--yikes. It can be too heavy, have a weird consistency, too bland, too coconut-y. The list goes on.
Now that I'm in Zurich at my boyfriend's apartment, which happens to be missing one oven (...for a total of zero ovens), I've been doing a lot of deep thinking and contemplating over what I can possibly make on a stovetop that would be just as good as roasting, baking, and the like. If you know the way I cook at all, you know I'm seriously oven-dependent. If it falls within a food group and it can be roasted, in it goes. I was in one of these bouts of deep contemplation and fast-and-furious recipe web browsing, when it dawned on me that I had, in fact, never attempted to make a Thai curry (or a Thai anything for that matter). Which was a crying shame, since I love the stuff so much.
So I Googled away until I came up with a few different recipes that sounded like they could work, took bits and pieces from each, and
voila!
A Thai green curry for the ages (if I do say so myself). It's got the exact consistency I prefer with a good hit of spice and just a hint of coconut. Dollop on top of some perfectly cooked basmati rice (recipe HERE), and you've got a pretty spectacular dinner on your hands--minus all that chemical, MSG-like mystery stuff you always suspect restaurants sneak in there. xo
Thai Green Chicken Curry
Serves 4
Ingredients:
1

tablespoon

vegetable oil
5 green onions, finely chopped, dark green parts separated from white and pale green parts
3 tablespoons fresh cilantro, minced
6 tablespoons

Thai green curry paste
1 14-ounce can unsweetened coconut milk
2

teaspoons

fish sauce (such as nam pla or nuoc nam)*
1 pound

skinless boneless chicken breast halves, cut into thin strips
1

large red bell pepper, cut into strips
1/4

cup

chopped fresh basil plus sprigs for garnish


Preparation:
Heat oil in large saucepan over medium heat. Add white and pale green parts of green onions, 1 tablespoon cilantro, and garlic; sauté until tender, about 2 minutes. Add curry paste; cook until fragrant, about 1 minute. Add 1 1/4 cups water, coconut milk and fish sauce. Bring to simmer. Add chicken and red bell pepper; cover and cook until chicken is just cooked through, about 5-7 minutes. Stir in dark green parts of green onions, 2 tablespoons cilantro, and basil.


Divide rice among 4 shallow bowls. Ladle curry over rice and serve.