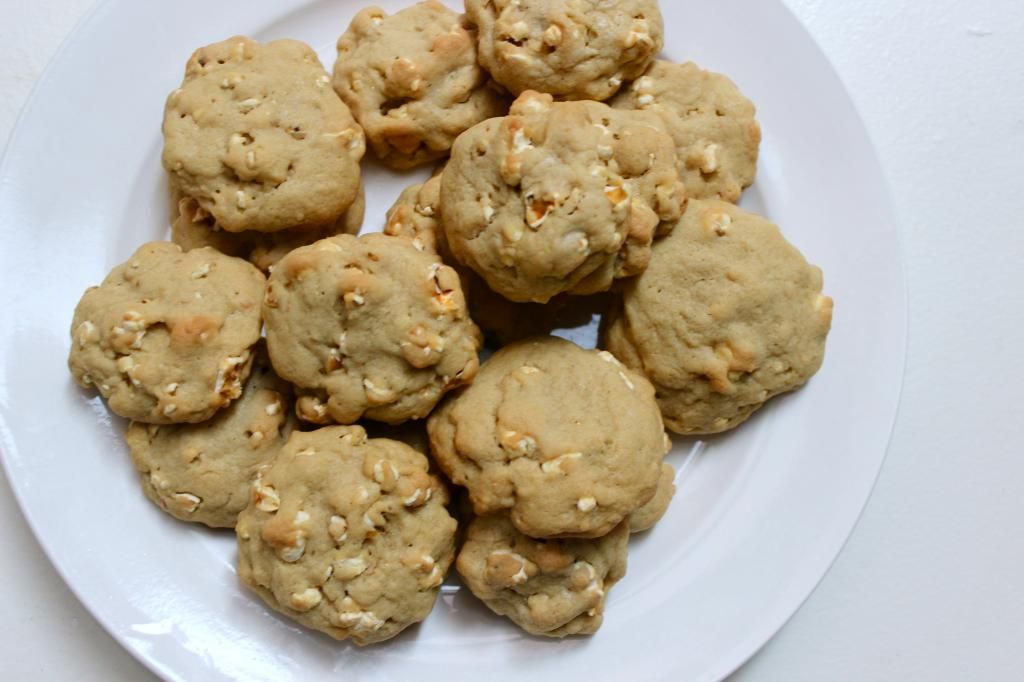 Fall brings many things that I like, not least of which is cookbook season. For some reason, all the good cookbooks get released sometime around October. Is it because people are hunkering down in their homes and getting in more kitchen time as the temps do their annual deep dive? Not sure, not sure. But regardless, as soon as November hit, I signed onto Amazon and clickety-clicked my way into owning upwards of five new tomes full of new recipes. File under: things that make me abnormally happy.
One of these books was the long-awaited
Smitten Kitchen Cookbook, by Deb Perelman
, based on the author's ridiculously popular (for good reason)
blog
. Perelman guides you through her excellent, incredibly detailed recipes, chatting with you as though you were a friend in her kitchen. This ensures (1) a highly entertaining read and (2) great results every time. When I came across this recipe for Buttered Popcorn Cookies, I went straight into the kitchen to give it a go. Popcorn and cookies are two of my most favorite things in the world, so it's not exactly surprising that I loved the two together. And I'm pretty sure you will too. xo
Buttered Popcorn Cookies
From The Smitten Kitchen Cookbook, by Deb Perelman
Ingredients:
2 tablespoons vegetable oil or canola oil
1/3 cup popcorn kernels
1/4 teaspoon table salt
1 tablespoon melted butter
1/2 cup unsalted butter, softened
1/2 cup packed light brown sugar
1/3 cup granulated sugar
1 large egg, room temperature
1/2 teaspoon vanilla extract
1 1/4 cups all-purpose flour
1/2 teaspoon baking soda
Directions:
To make the popcorn:
Heat oil over medium-high heat in a large saucepan until hot. Add the kernels, and cover, shaking the pan to make sure all the kernels are in contact with the bottom of the pan. As soon as you hear the first few kernels pop, shimmy the pan until all of the kernels pop (5 minutes or so). Remove from heat, add melted butter and salt, and transfer to bowl
.
Dough:
Preheat the oven to 350 degrees. In a large bowl, beat together butter, sugars, egg and vanilla until smooth. Whisk flour and baking soda together. Stir flour mixture into butter-sugar mixture, until combined. Fold in popcorn, making sure to get dough well distributed. It's okay if the popcorn breaks as you're mixing, and don't worry if it seems like there's too much popcorn for the amount of dough. It all works out in the end.
Bake:
Roll dough into mounds the size of a golf ball or slightly bigger. Place on a parchment lined baking sheet, making sure to leave a 2 inch gap between cookies. Bake for 10-12 minutes, or until edges are golden brown. Let cool for a minute or so on the baking sheet before transferring to a rack to finish cooling.
Makes about 24 cookies