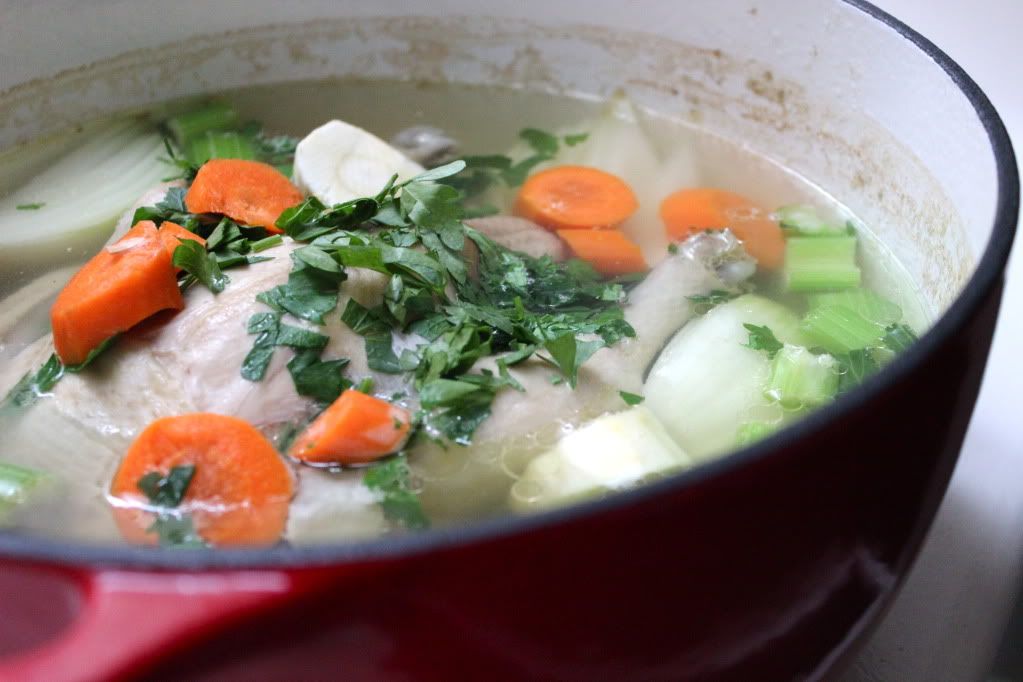 As I've spent the last week and a half battling a particularly persistent head cold, my chicken soup game has gotten considerably better. I've made a total of three batches within a time frame of seven days.
That's a lot of soup, people. The upside of all the sniffling, coughing, and general self-pity, is that I can now whip up a super delicious pot of classic chicken soup with my eyes closed, which is a pretty handy skill to have in your proverbial tool belt.
Here's my foolproof, super basic recipe for a chicken soup. If you want to spice things up a bit and make it even healthier, you can add in some torn kale, Swiss chard, or escarole at the very end, boiling them in the finished soup until the leaves are wilted. Or if you're craving some carbs, you can cook some pasta separately and stir it in, making it a chicken
noodle
soup. Oh, the excitement. xo
Chicken Soup
Serves 6-8
Ingredients:
1 whole organic chicken, 3-4 lbs
2 stalks celery, sliced into 2-inch pieces
2 whole carrots, coarsely chopped
1 large onion, quartered
1 parsnip, coarsely chopped
10 whole black peppercorns
2 tablespoons chopped fresh parsley
Coarse salt and freshly ground black pepper
Directions:
Fill a large pot with 4 quarts water; place over high heat and bring to a boil. Add chicken, return to a boil, skimming off any foam that has accumulated at the top. Reduce heat to low and continue cooking, uncovered, for 2 hours.
Add celery, carrots, onion, parsnip, peppercorns, and parsley. Continue cooking slowly, uncovered, for 1 hour, skimming off fat from surface as it rises.
Season with salt and pepper. Refrigerate, covered, overnight.
Remove the layer of fat that has formed on top of the soup overnight and discard. Place soup in a large saucepan and slowly heat before serving.