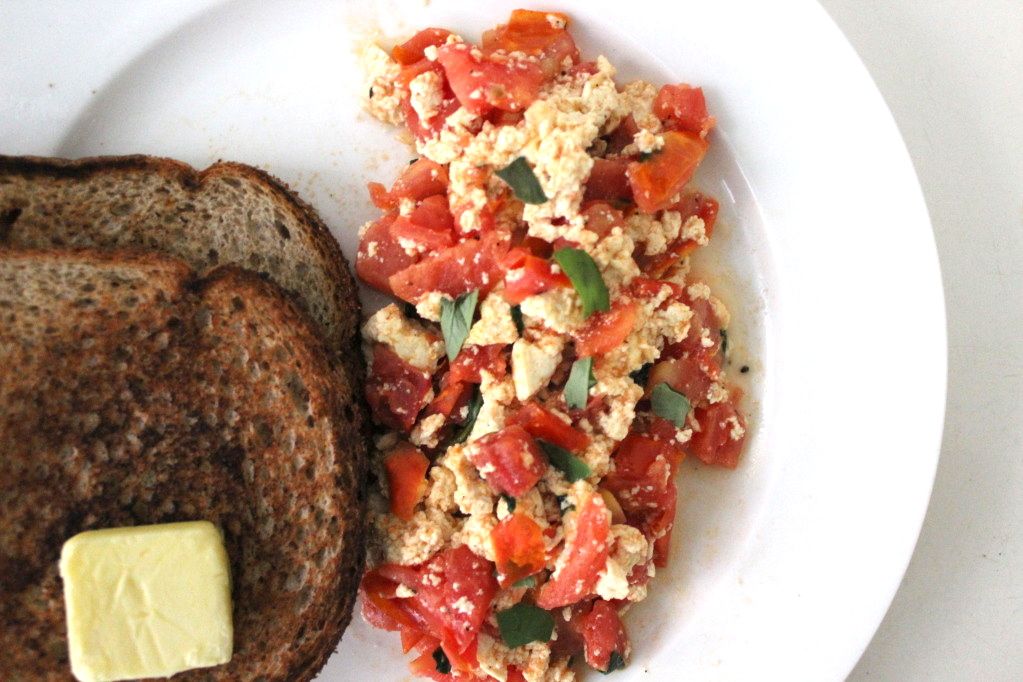 In honor of what is probably the busiest week of the year for myself and a lot of my peers (New York Fashion Week, if anyone was wondering), here is a super quick, healthy, easy breakfast to whip up. When your system is overloaded with various stresses, it's important to get your morning started on the right foot and feed your body the good energy it needs to power through the day. This recipe, found in Sophie Dahl's
beautiful new cookbook
, utilizes the bounty of September heirloom tomatoes that can be found at the markets right now and combines them with tofu and torn basil in a simple scramble. Eat with whole wheat toast topped with a generous dab of good butter. Yum. xo
Tofu, Tomato, and Basil Scramble
Serves 2
Ingredients:
1 tablespoon olive oil
1 clove garlic, peeled and finely chopped
4 medium heirloom tomatoes, chopped
A handful of fresh, coarsely torn basil
1 tablespoon tomato puree
About 1/2 block firm or extra firm tofu
1/4 cup crumbled feta cheese
A splash of vegetable stock (optional)
Salt and freshly ground black pepper
Directions:
Heat the oil in a frying pan and add the garlic, stirring for a minute. Add the tomatoes and the basil, and cook on low for two minutes. Add the tomato puree. Crumble in the tofu and the feta and mix it all through, adding a little vegetable stock if the mixture starts to look dry. Taste and season accordingly.