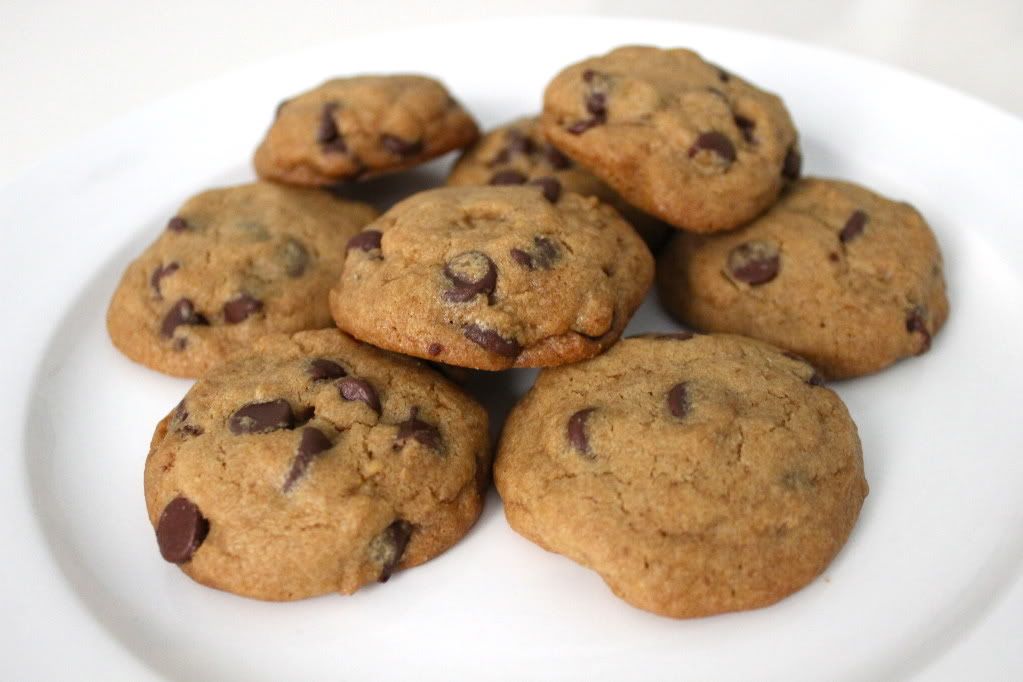 Last weekend, instead of heading out to the beach, I hunkered down in the city for the first time in a few weeks to take care of various less-than-thrilling things like a frighteningly large pile of laundry, restocking my fridge, organizing my closets, and trying to bring my poor, beleaguered fern back to life. In the midst of all that maintenance, though, I did manage to bake my doormen an end-of-summer batch of chocolate chip cookies that made them very happy, and I even had an extra handful to bring to my Sunday brunch date before we ventured up to the MoMA to take in some culture.
This latest favorite chocolate chip cookie recipe of mine turns out a cookie that is perfectly chewy, but still maintains those
slightly crispy edges that are so very important in any cookie that strives to be halfway decent. I tweaked Emily from
Cupcake & Cashmere
's formula just slightly, using the printed version found in her
fantastic new book
. The trick to perfect cookies, according to her, is really taking the time to let your butter and your egg come to room temperature. This means no cheating with a quick blast in the microwave for your butter. And, of course, use the absolute best ingredients you can find--the quality of the chocolate really matters here. Give it a go and let me know what you think. xo
Classic Chocolate Chip Cookies
Makes about 24 cookies
Ingredients:
2 3/4 cups all-purpose flour
1 teaspoon kosher salt
1 1/4 teaspoons baking soda
1 cup (2 sticks) unsalted butter, at room temperature
1 cup packed dark brown sugar
1/2 cup granulated sugar
1 teaspoon vanilla extract
1 large egg, at room temperature
12 ounces semi-sweet chocolate chips
Directions:
Whisk together the flour, salt, and baking soda in a bowl. Set aside.
In a large bowl, using an electric mixer or a stand mixer, beat the butter, sugars, and vanilla at medium high speed until light and fluffy, about 3 minutes. Add the egg and mix until just combined.
With the mixer on low, gradually add the flour mixture in several batches and beat until incorporated. Stir in the chocolate chips, using a large spoon. Cover the bowl with plastic wrap and refrigerate the dough for at least 1 hour, or overnight (this will help all the flavors really meld).
Drop mounds of cookie dough about 1 inch apart. The mounds should be a little larger than one tablespoon. Bake the cookies for 13 to 15 minutes, rotating the sheet once about halfway through, until the edges are just slightly browned. Remove the sheet from the oven and let it stand for 5 minutes. Transfer the cookies to a wire rack and let cool completely.