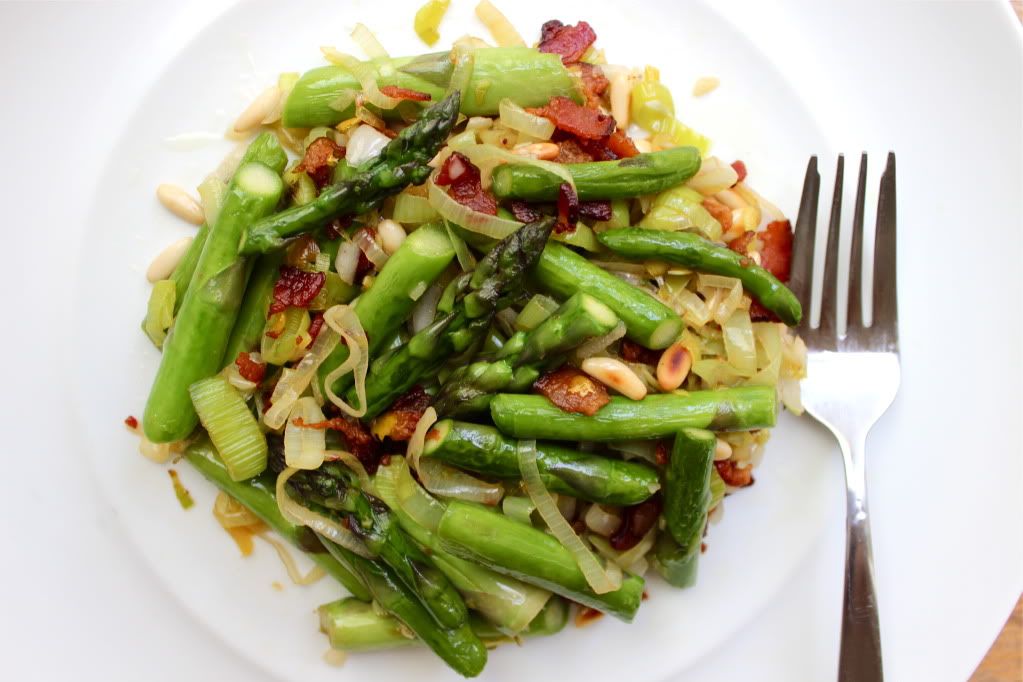 I spent the weekend unpacking and settling into my new apartment (pictures to come!) with a few breaks in between to finish the last 200 pages of Fitzgerald's
Tender is the Night
, play Bach's Minuet in d minor for a group of my piano teacher's fellow students in a mini piano recital/brunch, and get a seriously fantastic facial with Diana from
B Spa Bar
at the Soho Grand Hotel. It was a full weekend, but a very rejuvenating one.
This asparagus salad (adapted from
Food52
's recipe) is the first meal I prepared for myself in my new kitchen and as I stood at my counter, nibbling on the delicious mixture of market asparagus, bacon, and leeks, and sipping on an ice cold glass of Gruner, my apartment finally felt like home, unpacked piles of boxes and all. I guess that's the power of home-cooked food. xo
Warm Asparagus Salad
Serves 4
Ingredients:
4 slices thick-cut bacon, chopped
1 tablespoon unsalted butter
1 pound asparagus, woody ends trimmed and sliced into 2 inch pieces on the bias
1 1/4 cup leeks, thinly sliced crosswise (white and pale green parts only)
2 cloves garlic, minced
Zest of one lemon
2 tablespoons pine nuts, toasted
1-2 tablespoon flat Italian parsley, chopped or torn
Salt and freshly ground pepper to taste

Directions:
In a large non-stick pan, sauté pancetta, stirring frequently, over medium heat, until crisp and lightly golden.

Add 1 tablespoon of butter to pan. Add asparagus pieces and leek and sauté until asparagus is tender crisp, about 3-4 minutes.

Add garlic, lemon and orange zest, toasted pine nuts and parsley and sauté for about 1 minute, until fragrant. Season to taste with freshly ground pepper and salt and serve immediately.