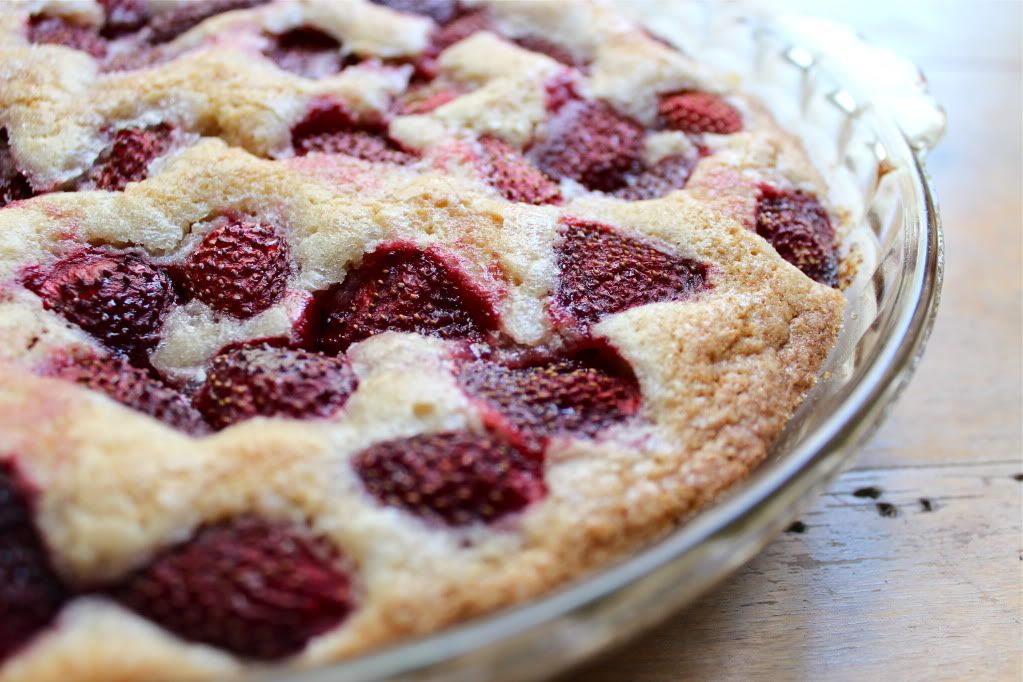 Nothing says "summer" quite like a ridiculously easy strawberry cake. And this one, my friends, is the strawberry cake to end all strawberry cakes. It's got a rich, buttery, sugary crumb that heaves with the weight of a full pound of farmers' market strawberries melting into sticky puddles of jam in your oven. It's list of ingredients is short, the assembly simple, and the time it'll last sitting on your kitchen counter infinitesimal. In fact, I polished the whole thing off in two days flat
by myself
. You can file that under "things no one should admit to on a public forum." Don't say I didn't warn you. xo
Summer Strawberry Cake
Adapted from Martha Stewart and Smitten Kitchen
Ingredients:
6 tablespoons unsalted butter, at room temperature, plus extra for pie plate
3/4 cup all-purpose flour
3/4 cup barley flour
1 1/2 teaspoons baking powder
1/2 teaspoon table salt
1 cup plus 2 tablespoons granulated sugar
1 large egg
1/2 cup whole milk
1 teaspoon vanilla extract
1 pound strawberries, hulled and halved
Directions:
Preheat oven to 350°F. Butter a 10-inch pie pan.
Whisk flours, baking powder and salt together in a small bowl. In a larger bowl, beat butter and 1 cup sugar until pale and fluffy with an electric mixer, about 3 minutes. Mix in egg, milk and vanilla until just combined. Add dry mixture gradually, mixing until just smooth.
Pour into prepared pie plate. Arrange strawberries, cut side down, on top of batter, as closely as possible in a single layer. Sprinkle remaining 2 tablespoons sugar over berries.
Bake cake for 10 minutes then reduce oven temperature to 325°F and bake cake until golden brown and a tester comes out free of wet batter (save for some gooey strawberries), about 50 minutes to 60 minutes. Let cool in pan on a rack. Cut into wedges. Serve with lightly whipped cream.