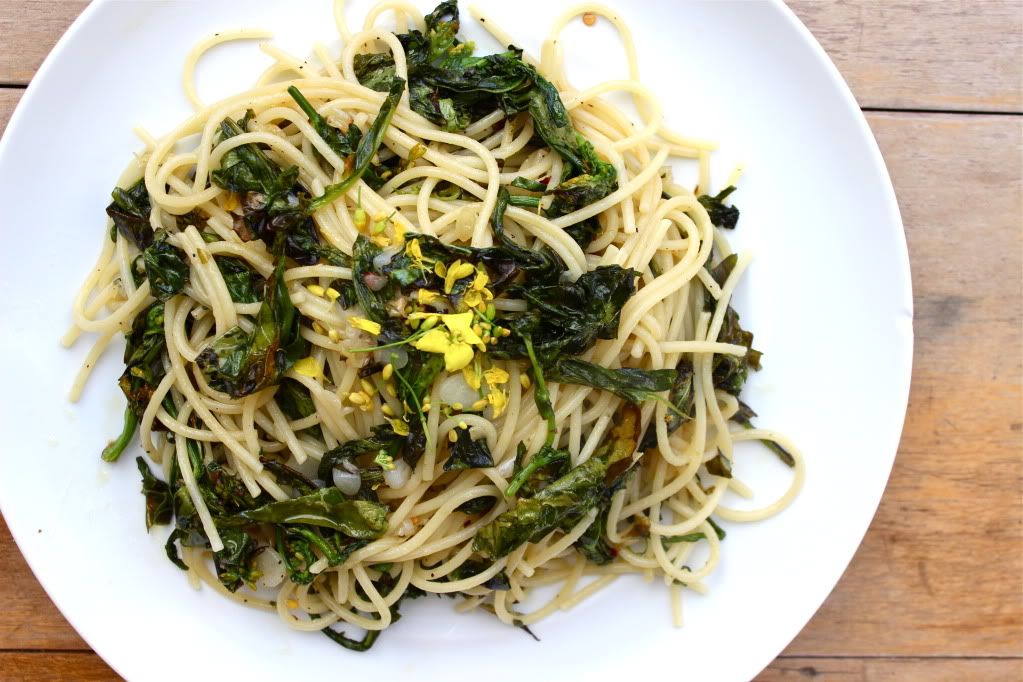 I know that the natural inclination with broccoli rabe is to blanche it, then saute it in some olive oil until it's wilted and soft and sweet(er). And there's a good reason that this is the natural inclination. It's absolutely delicious that way. Roasting it, however, may be even better, if only for the crisp/chewy charred spots that dot the otherwise soft leaves, creating some exciting texture. The trick is a super hot oven and a short roasting time. Then, you can toss it with some spaghetti, spring garlic, and oil, and you've got yourself a (healthy!) meal fit for a king. Extra points if you keep the pretty yellow flowers that are sprouting out of spring harvests of broccoli rabe, and use them for garnish at the very end. xo
Spaghetti with Roasted Broccoli Rabe
Serves 4
Ingredients:
1 (1-lb) bunch broccoli rabe, hollow stems discarded and leaves and remaining stems cut into 2-inch pieces
1/3 cup extra-virgin olive oil, separated
1 pound spaghetti
1 head wild spring garlic, cloves separated, peeled, and sliced thinly
1/2 to 3/4 teaspoon dried hot red-pepper flakes (to taste)
Kosher salt and freshly ground pepper
Grated parmigiano reggiano cheese (optional)
Directions:
Preheat oven to 500 degrees. Toss broccoli rabe with 3 tablespoons olive oil, and salt and pepper to taste. Spread out the broccoli rabe on a roasting pan in a single layer, spacing out the pieces as much as possible. Roast for until soft and wilty in some places, and golden brown and charred in others, about 7 minutes.

Meanwhile, cook pasta according to package instructions in a big pot of boiling, salted water. Drain in a colander and transfer to a large serving bowl.

Heat remaining olive oil in a large, heavy skillet over moderate heat. Add garlic and red pepper flakes and cook, stirring frequently, until garlic is pale golden, 3 to 4 minutes. Pour over pasta and toss to combine. Add your roasted broccoli rabe and mix thoroughly. Garnish with flowers and cheese if desired. Serve hot.