One good thing about the advent of fall (besides cozy sweaters and boots) is the return of good, hearty Sunday suppers. I never really stop making pasta year-round, but during the summer, my tastes run more towards quick, simple, barely-there sauces that are usually comprised of nothing more than fresh heirloom cherry tomatoes, some olive oil, and a bit of basil and garlic. I'll miss that, for sure, but I can't wait for the first weekend when I can pull on some long, wool socks, gather my hair in a messy bun, and spend all day reading novels and simmering sauce. Turkey meatballs is first on that list, and I'll serve it with a side of garlic bread, of course. You can't have meat sauce without garlic bread. Fact.
I usually make this recipe with some chopped parsley mixed into the garlic butter to break up that intense garlicky taste just a bit and to add beautiful bright green color, but I didn't have any on hand, so I did without and it was delicious. But add it in, by all means, if you have it. Recipe down below. Happy fall. xo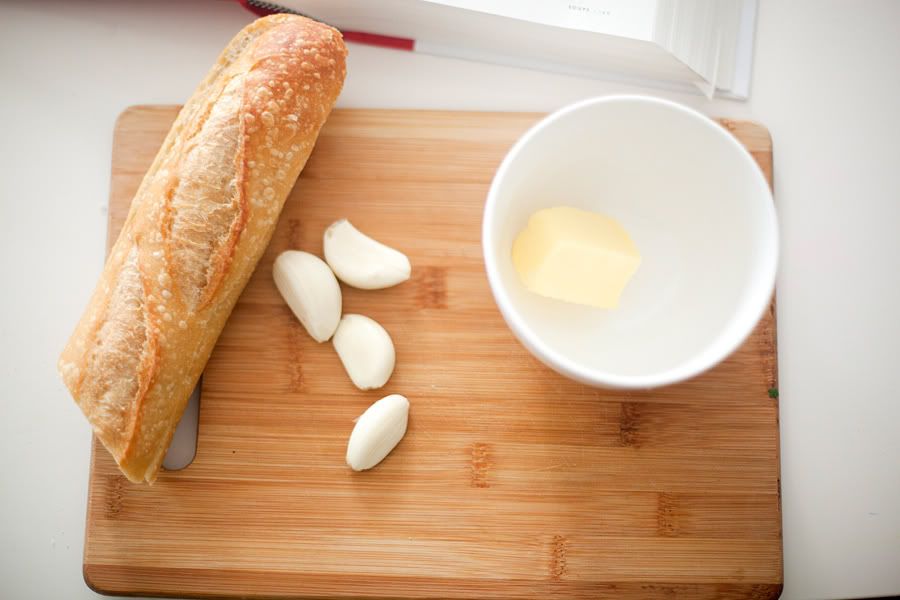 Garlic Bread
From GOOP
Ingredients:
1/4 cup (1/2 stick) lightly salted butter, room temperature
5 cloves garlic, pushed through a press
1 tablespoon finely chopped parsley
1/4 teaspoon freshly ground black pepper
1 baguette
1/2 cup finely grated parmesan
Directions:
Preheat the oven to 375 degrees. Stir together the butter, garlic, parsley and pepper until well combined. Cut the baguette in half horizontally and spread each cut side with the garlic butter, being sure to use every last bit. Sandwich the bread back together, wrap in a sheet of tin foil and put in the oven for 10 minutes.

Turn on the broiler, unwrap the bread, evenly sprinkle the parmesan over both sides of the bread and broil until the cheese is melted and browned. Check after one minute. I burn mine by accident 50% of the time, so keep an eye out! Cut into pieces and serve.