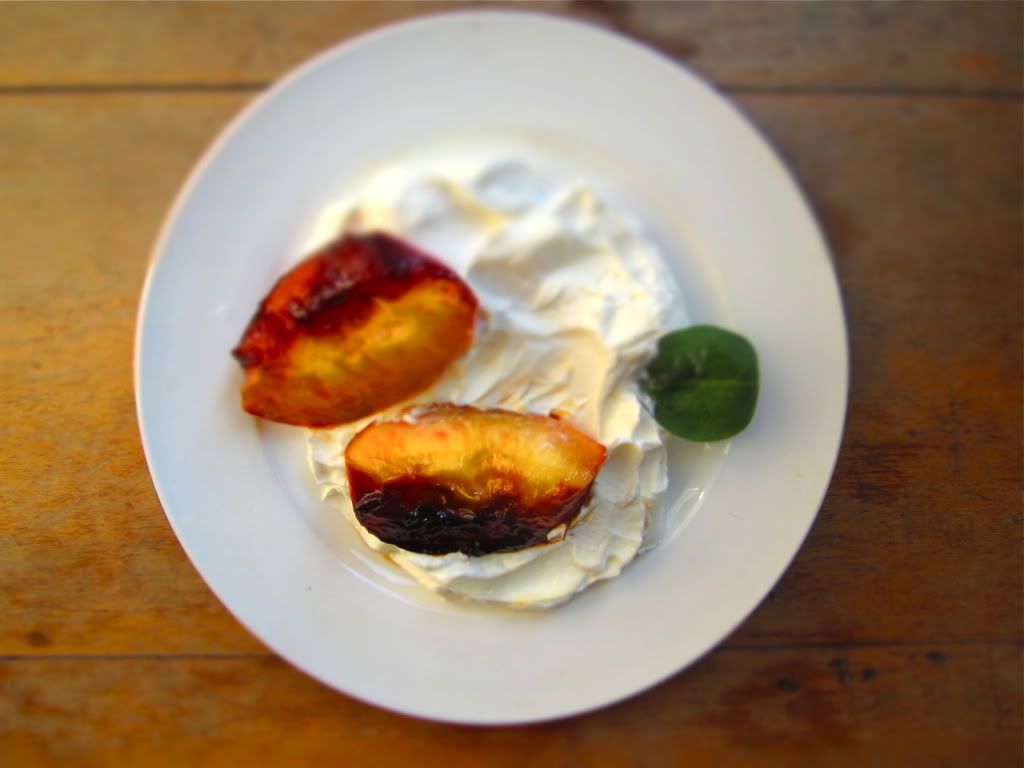 In lieu of going out, I spent Friday night curled up on my couch catching up on the August issues of
Bon Appetit
and
Vogue
, and making some headway in
The Emperor's Children, by Claire Messud
. Wild and crazy, it was not. But it was also exactly what I needed after a busy work week filled with meetings, appointments, and evening events.
Bon Appetit
has undergone a full makeover since the changing of the guard there, and I'm absolutely loving it--this issue may just be my favorite ever. Not least because I found a simple, delicious recipe for apricot compote in it, which I decided to make for breakfast this morning. I made a few tweaks (i.e. subbing peach for apricot since it was all I had, but a stone fruit is a stone fruit, right?), and it came out perfectly--sweet and glazed and slightly charred on one side. Served on a bed of full-fat Greek yogurt, it was a nice way to start the week. Recipe below serves one. xo
Peach Compote
Ingredients:
1 ripe peach, pitted and halved
Juice of 1/2 lime
1 tablespoon white sugar
Full-fat Greek yogurt
Fresh tarragon leaves for garnish (optional)
Directions:
Combine peach halves, lime juice, and sugar in a large skillet. Cook over medium heat, turning occasionally, until peaches are glazed and syrupy, about 5-6 minutes. Transfer to a small bowl and chill. Serve with the yogurt and garnish with tarragon leaves, if desired. I didn't have tarragon on hand (and don't particularly like herbs and fruit together) so I grabbed a baby spinach leaf and stuck it on purely for decorative purposes.