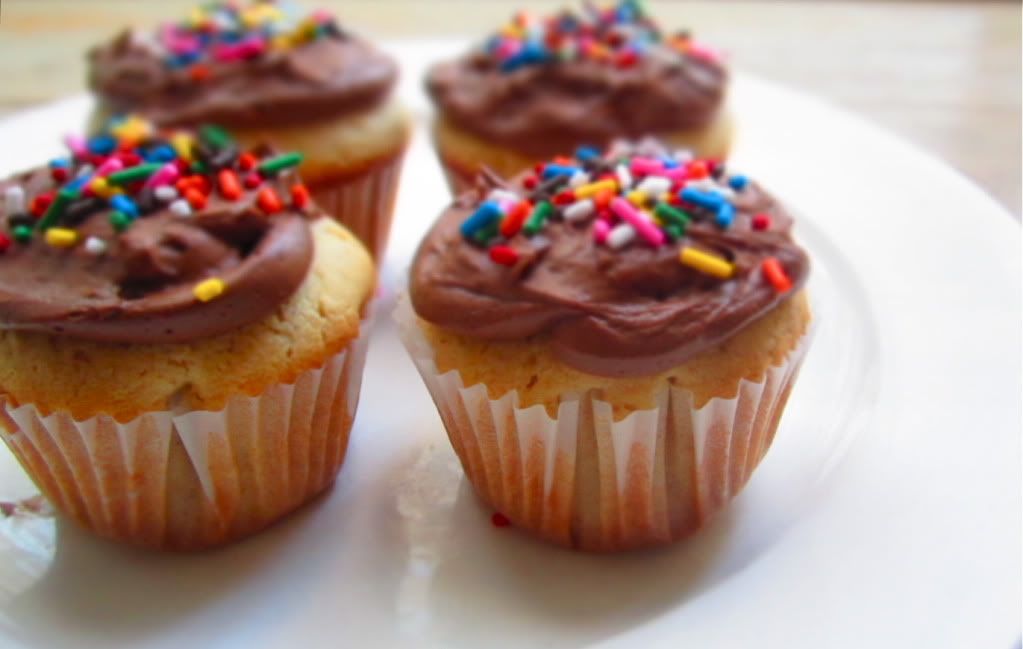 Last weekend, I celebrated the 30th birthday of one of my oldest friends, and thought the event warranted a big batch of something sweet. And so, I spent a quiet, peaceful Saturday morning digging through a massive pile of cookbooks in bed, on a hunt for an ideal birthday cake recipe. I ended up landing on this one from Amanda Hesser's New York Times cookbook (which, incidentally, is rarely far from my side in the kitchen), for peanut butter cupcakes with milk chocolate frosting. When I read the recipe through, visions of Reese's peanut butter cups went flitting through my head, and it was a done deal.
Turns out, it was a pretty good decision. The cake turns out fluffy and light and streaked through with just the right amount of creamy peanut butter, and the chocolate frosting is about the best I've ever had. I had a bit leftover after I was done piling each little cake high with dollops of it, and so I ended up using the leftovers for spreading on hot toast the next morning a la Nutella, and it was excellent. But who am I kidding? I would've spread it on cardboard and eaten it if that was my only option. It's that good. xo
Peanut Butter Cupcakes with Milk Chocolate Frosting
From The Essential New York Times Cookbook, by Amanda Hesser
Ingredients:
For the cupcakes:
3 cups cake flour
1 tablespoon baking powder
¼ teaspoon salt
12 tablespoons (1 ½ sticks) unsalted butter, softened
1 ½ cups granulated sugar
½ cup packed light brown sugar
1 cup creamy peanut butter
4 large eggs
1 cup whole milk
For the frosting:
3 cups powdered sugar
Pinch of salt
2/3 cup unsweetened natural cocoa powder
3 sticks of butter
1 ½ teaspoons vanilla extract
6 tablespoons whole milk
Chocolate flakes or sprinkles (optional)
Directions:
Heat the oven to 350 degrees. Line two 12-cup muffin tins with paper cups. Sift together the flour, baking powder and salt.
In a mixer fitted with the paddle attachment, beat the butter and sugars on a low speed until combined, then beat on high speed until light and fluffy, about 5 minutes. Mix in the peanut butter, then beat in the eggs one at a time. On low speed, alternately add the flour mixture and milk to the batter in three parts.
Fill the baking cups ¾ full with batter. Bake until a toothpick inserted in the center comes out clean, about 17 to 19 minutes. Cool on rack.
To make the frosting, sift together the powdered sugar, salt and cocoa powder. In a mixer (using the paddle attachment again), beat the butter until smooth. On a low speed, slowly add the cocoa mixture. Add the vanilla, then add the milk a little at a time, beating until the frosting reaches spreading consistency.
Frost the cooled cupcakes, and sprinkle with chocolate flakes or sprinkles. Enjoy!