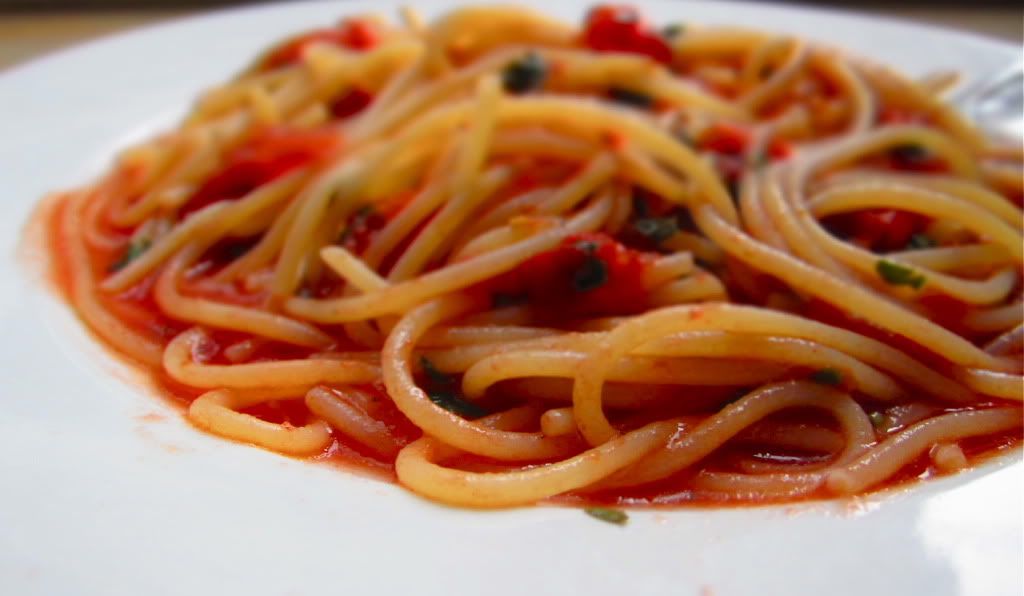 One of my favorite things to eat in the springtime is spaghetti. There's just something about warm weather that makes me want to make pasta in all sorts of different ways, using lots of seasonal ingredients (asparagus spears with parmesan and lemon, anyone?). Unfortunately, it looks like we New Yorkers have a long time to wait 'til we're plucking juicy heirloom tomatoes warmed by the sun from farmers' market stands to make sauce with. Damn global warming and the resulting insane weather patterns. So in the meantime, here's an excellent alternative.
This is, by far, the easiest spaghetti sauce recipe I've ever come across, and it requires...wait for it...absolutely no stove time. How, you say? Here's what happens. You combine the best quality canned tomatoes you can find, mix in some fresh basil and garlic, and stick the whole thing in the fridge overnight so that the flavors have a good long time to mix and mingle. The next day, some sort of magic has happened, and you've got yourself a batch of the tastiest sauce imaginable. All that's left to do is mix in some olive oil, salt, and pepper and pour it over freshly cooked al dente spaghetti. Don't worry, the heat from the noodles will warm the sauce right up to a pleasing temperature. I will give a word of warning, however: with a dish as beautifully simple as this one, it will make a world of difference if you use the best ingredients possible. This is the time to splurge. Make it tonight, eat it tomorrow, and dream of summer. xo
Cold Sauce
Adapted from Food52.com
Ingredients:
1 28-ounce can of crushed tomatoes
1 cup fresh basil
2 cloves garlic or more
1/8 cup extra-virgin olive oil
Salt and pepper to taste
1 lb spaghetti
Directions:
Finely chop the basil. In a large bowl empty the canned tomatoes, basil, garlic, salt and pepper. Mix these ingredients together and refrigerate overnight. When you're ready to use remove from the refrigerator and add oil, stir well. In the meantime, cook the pasta al dente, drain and add the sauce. The hot pasta will warm the cold sauce. Cheese is optional.