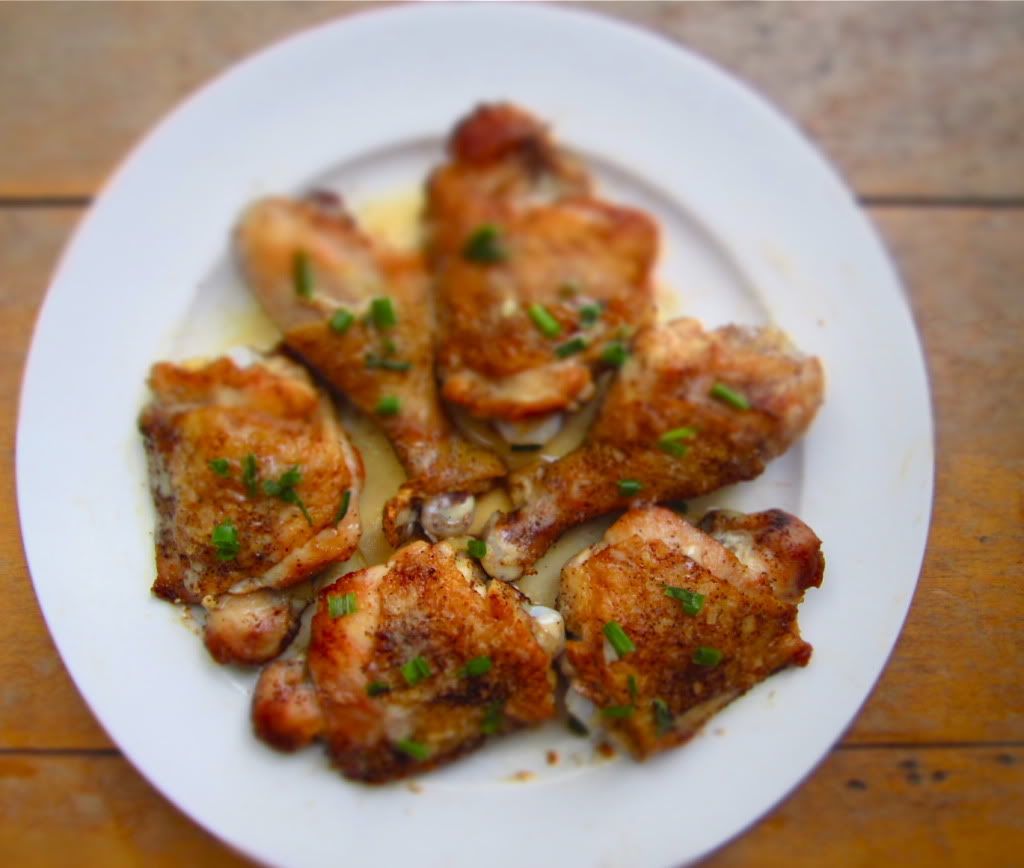 And so my chicken habit continues. This time, instead of roasting a whole chicken, I decided to switch it up (exciting, I know!) and roast 3 lbs worth of chicken legs and thighs, which are my favorite parts of the bird. I used a recipe I found on
Smitten Kitchen
for a smooth, silky Dijon sauce, and as soon as I took my first bite, straight out of the skillet, I knew that it was The One: my new favorite chicken recipe (this tends to change frequently, though).
The chicken is seasoned and then browned thoroughly before it's put into the oven for a short amount of time, producing a thin, crispy, deliciously salty skin that holds the juices in nicely. And then comes the sauce, which is, incidentally, one of the easiest, most brilliant things I've ever made. You scrape up the brown bits and chicken juices from the skillet, pour in some white wine and broth and boil it all together, finishing it with a bit of cream and swirls of Dijon mustard, which leaves you with a glossy, delicate sauce that packs quite a bite when poured over your chicken. It's divine. Plus, you get to sip on the extra white wine and pretend you're in a country kitchen somewhere in France while the concoction on your stove bubbles away--and with the heady way your kitchen will smell, you may as well be. xo
Roast Chicken with Dijon Sauce
From Smitten Kitchen
Ingredients:
3 pounds chicken parts (thighs, drumsticks, and/or breasts), with skin and bones
1 tablespoon vegetable oil
2 small shallots, thinly sliced
3/4 cup dry white wine
3/4 cup reduced-sodium or sodium-free chicken broth
1/4 cup heavy cream
2 tablespoons smooth Dijon mustard
1 tablespoon finely chopped chives or the green parts of scallions
Directions:
Preheat oven to 450°F with a rack in middle. Pat chicken dry and season generously with salt (I used Maldon sea salt) and freshly ground black pepper. Heat oil in an ovenproof 12-inch heavy skillet (if you've got a cast iron skillet, it is great here) over medium-high heat until it shimmers. Working in 2 batches, brown chicken, skin side down first and turning once, about 5 minutes per batch. I like to take a lot of care in this step, not moving the chicken until the skin releases itself and has a nice bronze on it, which will provide the best flavor and seal in the most juices.
Return all chicken, skin side up, to skillet and roast in oven until just cooked through, 15 to 20 minutes. Transfer chicken to a platter, then add shallots, wine, and broth to pan juices in skillet and boil, scraping up any brown bits, until reduced by half, 2 to 3 minutes. Add cream and boil until slightly thickened, about 1 minute. To thicken the sauce further, turn the heat to high and boil it until it reduces to a consistency you prefer.
Whisk in mustard, chives, and salt and pepper to taste. Serve chicken with sauce.