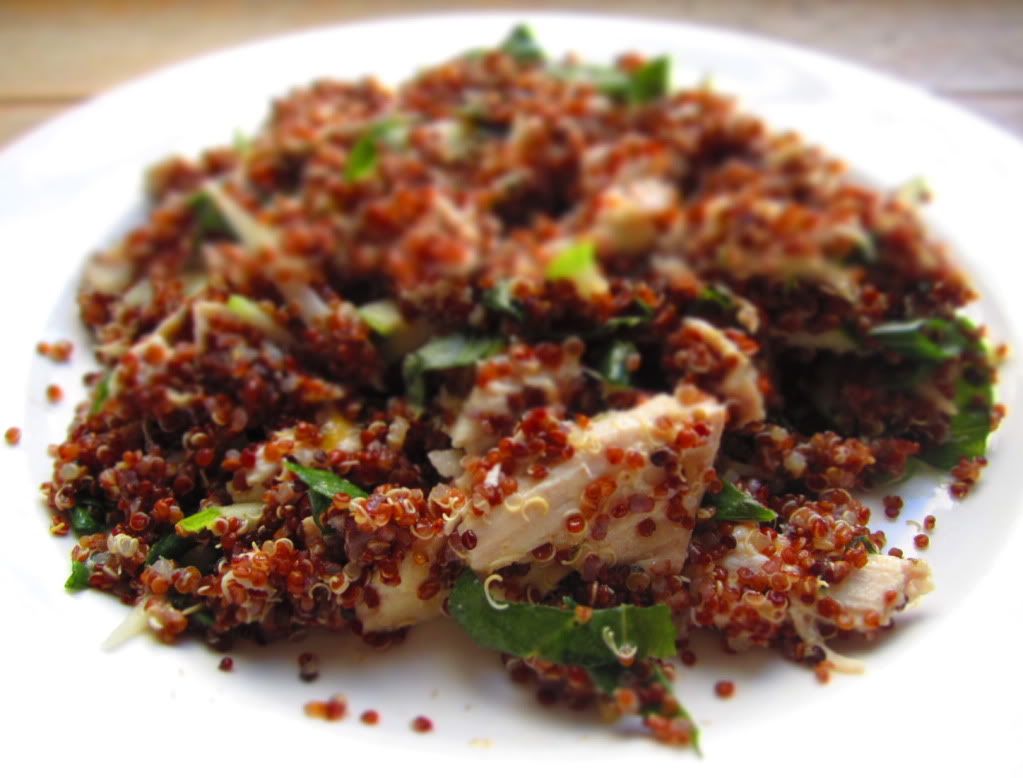 The first time I went to Peel's, here in NYC, I ordered up their red quinoa salad. Sounds like boring spa food, right? Negative. It was filled with creamy chickpeas, chunks of juicy black olives, and of course, loads of quinoa, my favorite ancient super grain. It was anything but boring, and in fact, it was probably the best thing I had that night (and I also had the shrimp and grits, along with the corndogs, so that's saying something).
Ever since, I've had it in my head as something to try to recreate at home, so when I came across a quinoa recipe in my current favorite cookbook, A Bird in the Oven and Then Some, by Mindy Fox, I shredded up some leftover roast chicken and gave it a go. This is probably the healthiest, tastiest, most refreshing salad I've ever made. It begs for a picnic blanket and a lazy, sun-flooded afternoon with friends. You can bet it's going to be on permanent rotation for me this summer. xo
Red Quinoa Salad with Roast Chicken, Tart Apple, Ground Pepper, and Fresh Basil
From A Bird in the Oven and Then Some, by Mindy Fox
Ingredients:
2 cups water
1 cup pre-washed red quinoa
2 cups small shreds roast chicken
1 Granny Smith apple, cut into 1/8-inch slices, then into 1-inch matchsticks
1/2 cup thinly sliced fresh basil leaves
2 scallions, thinly sliced on a long diagonal
6 tablespoons fresh lemon juice (from 2 lemons)
3 tablespoons extra-virgin olive oil
1 teaspoon fine sea salt
Freshly ground black pepper
Directions:
Combine the water and quinoa in a 1 1/2-quart saucepan and bring to a boil. Reduce to a simmer, cover, and cook until the water is absorbed, about 15 minutes. Spread the cooked quinoa on a large plate and let cool.
In a large bowl, toss together the cooled quinoa, chicken, apple, basil, and scallions. Add the lemon juice, oil, and salt, and toss once more. Season with pepper.