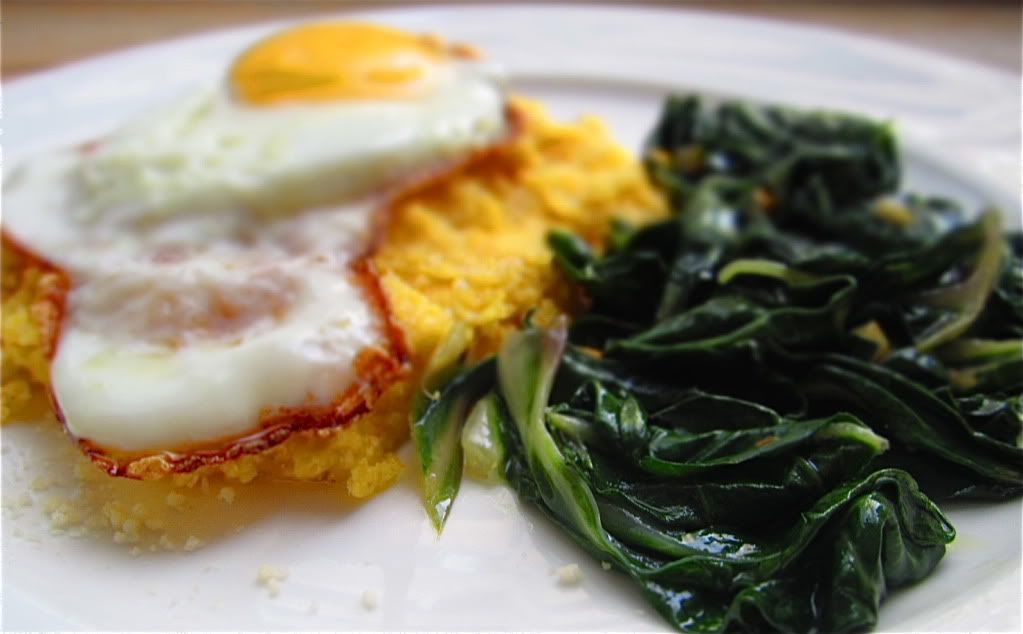 Is there anything more comforting than creamy, buttery polenta topped with a sprinkling of fresh parmesan and a perfectly crisp-at-the-edges fried egg? I'm going to say "no" on that one. Add a side of fragrant, garlicky, wilted Swiss chard for a hit of healthiness, and you've got yourself a true breakfast of the champions. It's enough to keep you going well through to the afternoon, even on the busiest, most hectic winter workday.
This is the first recipe I've cooked from Melissa Clark's genius book, In the Kitchen With a Good Appetite, and if it's any indication, I've got a lot of good food to look forward to as I make my way through it. It's the perfect thing to cook for yourself in the morning as you start your day, but it will also do in a pinch as a warm, nourishing, late-night dinner for two.
With all the sludgy, ice-stormy, messy grossness we've gotten in NYC today, I'm already daydreaming about the weekend, which I'm hoping involves lots of cooking, wine, and cozy movie nights. Is winter over yet? The recipe below will serve four, but you can halve it as I did to make just enough for two. xo
Buttery Polenta with Parmesan and Olive Oil-Fried Eggs
Adapted from In the Kitchen with a Good Appetite, by Melissa Clark
Ingredients:
4 1/2 cups water or low-sodium chicken broth
1 1/2 cups polenta or corn grits (not quick-cooking)
3/4 teaspoon sea salt
2-4 tablespoons unsalted butter
1/4 teaspoon freshly ground black pepper, plus more, to taste
1/4 cup grated Parmesan cheese
2 tablespoons extra-virgin olive oil
8 large eggs
Coarse sea salt, for garnish (I used a bit of Maldon salt)
Directions:
In a large pot, bring the water or broth to a low simmer. Stir in the polenta and salt. Simmer the polenta over medium-low heat, stirring frequently but not constantly, until thickened to taste, about 10 to 20 minutes. Stir in the butter and pepper and cover to keep warm.
Heat 1 tablespoon of olive oil in a large skillet over medium high heat. Fry four of the eggs until the edges are crisp and golden and the yolks are still runny. Repeat with the remaining oil and eggs.
Divide the polenta into four bowls or plates, sprinkle with the Parmesan, and then place the fried eggs gently on top. Garnish with salt and pepper.
Garlicky Swiss Chard
Adapted from In the Kitchen with a Good Appetite, by Melissa Clark
Ingredients:
2 bunches Swiss chard, stems removed
1 tablespoon olive oil
2 garlic cloves, minced
Large pinch crushed red pepper flakes
Salt
Directions:
Stack the chard leaves on top of each other (you can make several piles) and slice them into 1/4 inch strips.
Heat the oil in a very large skillet. Add the garlic and the chard, coating it in oil. Cover the pan and let cook for about 2 minutes, until wilted. Stir and cook for 2 minutes longer, uncovered. Season with salt. Serve in the same bowl or on the same plate as the polenta.