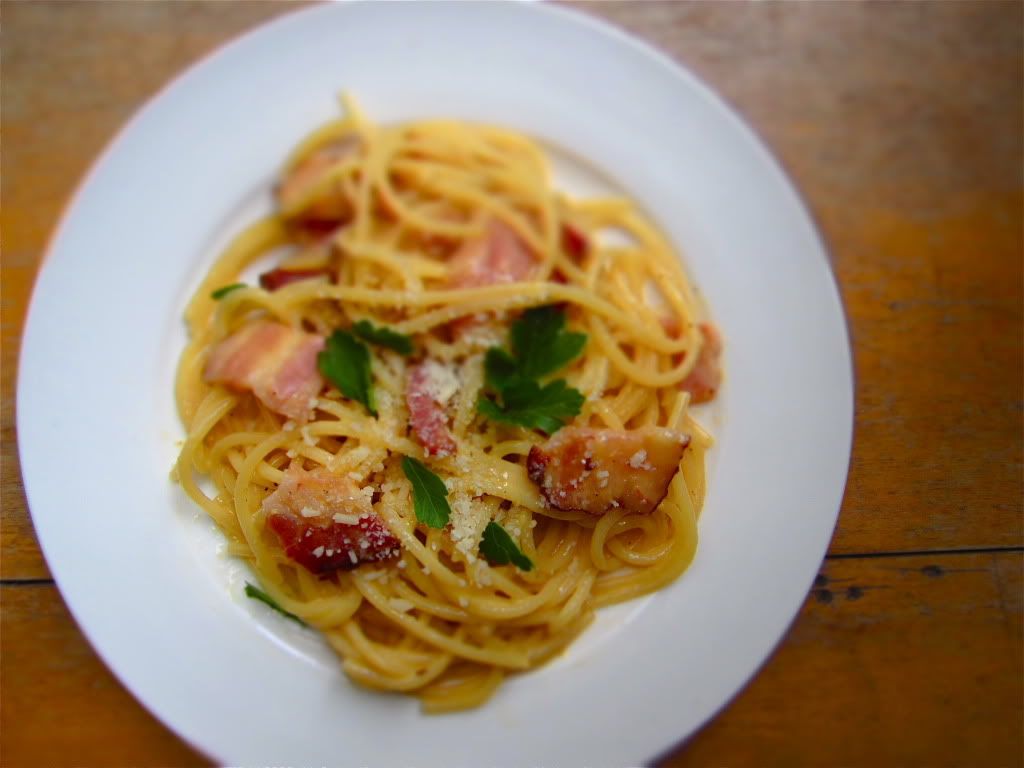 This weekend was spent holed up cozily in my apartment swathed in cashmere sweaters and blankets, doing nothing much but playing with Suz Monster, cooking loads of food, afternoon-napping, reading, flipping lazily through magazines, doing massive apartment clean-outs, taking hot, candlelit baths, and relaxing in general. The city was quiet as a mouse. Even quieter (I've heard what a mouse actually sounds like, and it ain't that quiet). I loved it. It gave me the time and space to think about the past year, what I've done, who I've become, old goals checked off the list, and new goals to consider. It's a little embarrassing to admit, but I have this running document on my computer that I'm updating constantly with things I want to accomplish, notes, thoughts, and the like. I did a lot of updating over the last few days. It's practically a whole new document.
When it comes to taking some serious downtime, the last thing I want to do is invest lots of it slaving over complicated recipes in the kitchen. So, this weekend, as always, I picked super simple comfort dishes that I love to make. The first is this spaghetti carbonara, made in the classic Roman way (no cream), albeit with thick-cut bacon replacing the guanciale. But I like it better with bacon anyway. Try it. It takes no time and is the perfect dish--everyone from kids to friends to parents to grandparents can't seem to resist its charms. xo
Spaghetti Carbonara
From ruthreichl.com
Ingredients:
1 pound spaghetti
1/4 to 1/2 pound thickly sliced good quality bacon
2 cloves garlic, peeled
2 large eggs
Black pepper
1/2 cup grated Parmigiano cheese, plus extra for the table
Few sprigs of parsley (optional)
Directions:
Bring a large pot of salted water to boil. When it is boiling, throw the spaghetti in. Most dried spaghetti takes 9 to 10 minutes to cook, and you can make the sauce in that time.
Cut the bacon crosswise into pieces about 1/2 inch wide. Put them in a skillet and cook for 2 minutes, until fat begins to render. Add the whole cloves of garlic and cook another 5 minutes, until the edges of the bacon just begin to get crisp. Do not overcook; if they get too crisp they won't meld with the pasta. Meanwhile, break the eggs into the bowl you will serve the pasta in, and beat them with a fork. Add some grindings of pepper.
Remove the garlic from the bacon pan. If it looks like too much to you, discard some, but you're going to toss the bacon with most of its fat into the pasta. When it is cooked, drain the pasta and immediately throw it into the beaten eggs. Mix thoroughly. The heat of the spaghetti will cook the eggs and turn them into a sauce. Add the bacon with its fat, toss again, and add cheese. Garnish with some parsley leaves for color if you want. Serve immediately.