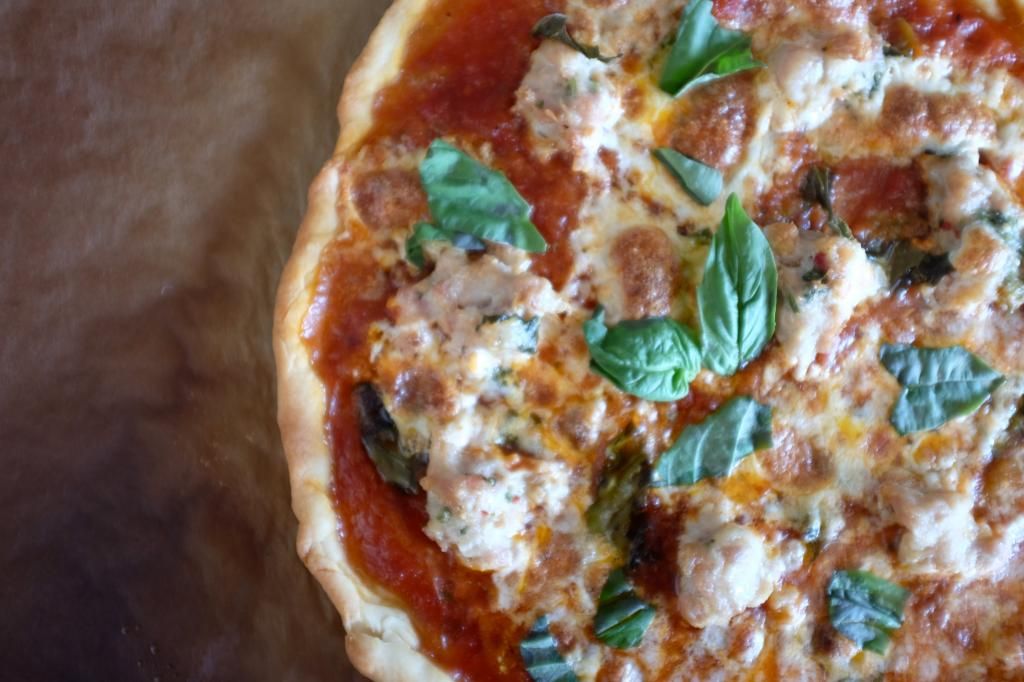 Over the course of the past few years, I've dabbled occasionally in homemade pizza-making. There have been times when I've come up with recipes that have been decent, and one or two that have been pretty good (and many, many more that have been downright dismal, ending in me violently throwing yeast down the sink--as violently as one can throw yeast, that is--and silent-screaming
PIZZA SUCKS
, which we all know is just not true).
The moral of my pizza attempts have largely seemed to point to the fact that no matter what, the pizzas that come out of my little home oven with max temps of 480 F would never, ever,
ever
come close to the fluffy, bubbly, chewy, super-charred-at-the-edges miracle of crust that places like
Motorino
or
Roberta's
or
Best Pizza
turn out so easily (and....deliver to my apartment so easily). Because, really, if I'm being perfectly honest with myself, the truth is that I've turned out some good home pizzas, but they were nothing like the stuff of the NYC/Brooklyn pros. And so, it was with a heavy heart that I slid my little-used pizza stone into the lower dregs of my overflowing pots and pans cabinet.
Until, that is,
Amy Thielen
came to the rescue with one perfect pizza recipe that wasn't even
trying
to be that elusive New York wood-fired thing of dreams. No, it's crust was thin, crunchy, flat, and totally different from what I was used to getting at my neighborhood pizzerias. It reminded me a little of frozen pizza (which I have an odd love for), but a million times better. It was entirely it's own thing, and so very delicious for it. (I could go into a life-lesson analogy here, but I'll restrain myself for the sake of your sanity and reader retention).
Apparently, this type of pizza is prevalent in all parts of the Midwest except for deep-dish loving Chicago. Who knew? It's also truly easy to make, as the dough doesn't require any yeast and just about 5 minutes of kneading time. Also, if you're feeling lazy or you're short on time, you can skip the sauce-making and just buy your favorite jarred kind. I've made it twice now in as many weeks, and I have a feeling that this thing is just getting started on the road to kitchen regular status. So many thanks to
Lottie + Doof
for publishing the recipe first and alerting me to its genius. xo
Cracker-Crust Pizza
From
The New Midwestern Table
, by Amy Thielen
Ingredients:
Pizza Dough:
3/4 cup cool water
1/4 cup canola oil
1 teaspoon fine sea salt
1 teaspoon sugar
2 cups plus 2 tablespoons all-purpose flour, plus more as needed
Sauce:
2 tablespoons salted butter
1/2 large onion, diced
1 teaspoon fine sea salt
3 cloves garlic, minced
1 28-ounce can whole plum tomatoes
1 large sprig fresh basil
1 tablespoon minced fresh rosemary
1 teaspoon sugar
Freshly ground black pepper


Toppings:
1/4 cup extra-virgin olive oil, for brushing
8 ounces sweet Italian sausage (I used chicken sausage)
1 cup fresh basil leaves
1 pound fresh mozzarella, shredded (3 cups)


Directions:
For the pizza dough, pour the water, oil, salt, and sugar into a large bowl. Add 1 cup of the flour and whisk until smooth. Switching to a wooden spoon, gradually add the remaining flour, stirring until the dough comes together. Turn the dough out onto a clean surface and knead until it is smooth and supple, about 5 minutes. Divide the dough into three equal pieces, shape each one into a rough disk, cover with a cloth, and let rest on a board for at least 30 minutes (and up to 3 hours) before rolling.
For the tomato sauce, heat a wide saucepan over medium heat and add the butter, onion, and 1/2 teaspoon of the salt. Sauté until the onion is very tender, about 10 minutes. Add the garlic and cook for another minute. Pour the tomatoes into a bowl and crush them with your hands. Add the tomatoes, 1/4 cup water, basil sprig, rosemary, sugar, remaining 1/2 teaspoon of salt, and a few turns of black pepper, and simmer until the sauce thickens and is no longer watery, about 20 minutes. Discard the basil.
Set a pizza stone on a rack on the bottom third of the oven and preheat the oven to 500°F.
Roll one portion of dough between two pieces of parchment paper into a round that is about 12-inches in diameter. Peel off the top layer of parchment. Fold over the edges of the crust and pinch the edge into a small roll, as you would crimp a pie.
Brush the dough lightly with olive oil, and then spread the top with one third each of the sauce, the sausage, and the basil. Top with one-third of the cheese.
Slip a pizza peel beneath the paper and transfer the pizza to the pizza stone in the oven. Bake until browned on top and slightly charred on the edges, 15 to 18 minutes. Transfer the pizza to a cutting board, swiping the paper out from underneath the pizza. Cut the pizza into small squares and serve immediately. Repeat the process to make two more pizzas.