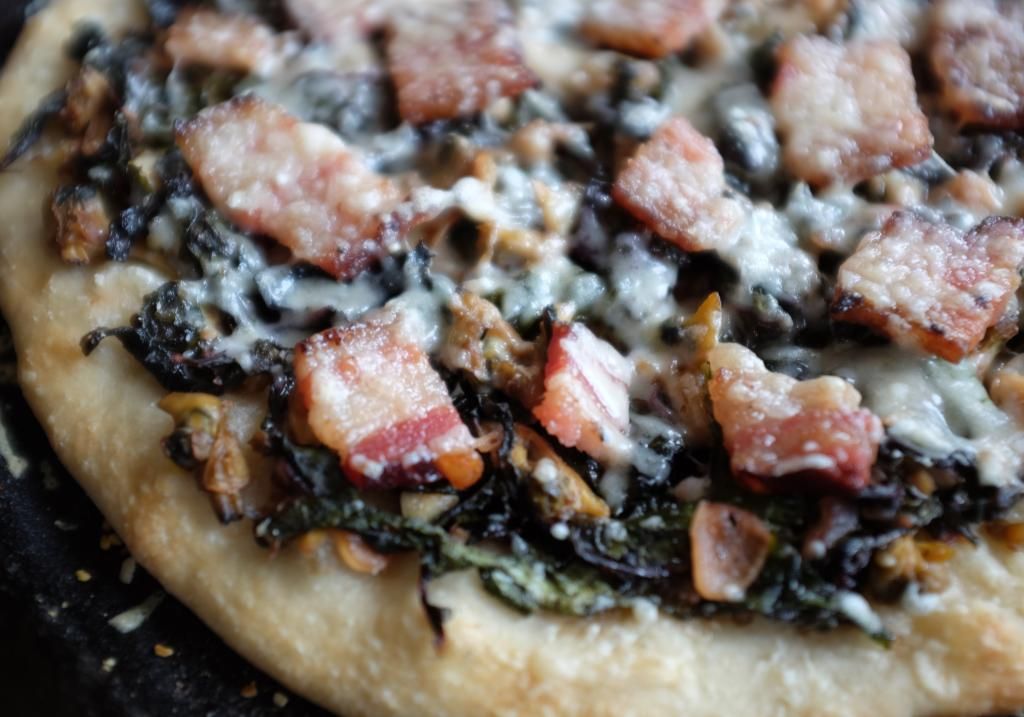 One of my main goals in life is to one day own a pizza oven. But not just any pizza oven. I want a big monster of a brick, wood-fired oven that sits smack dab in the middle of my backyard. The backyard that is but one beautiful component of the rest of my beautiful house. In said oven, I would also do things like roast perfect little chickens with charred skins, bake rustic loaves of bread, and make wood-fired shellfish. Yeah, I may need to move to California at some point in my life. Either that or realize my dream of buying a bucolic, airy beach house somewhere in Amagansett or the like. We shall see.
For now, my homemade pizza adventures are firmly tethered to the realities of my tiny little oven in Williamsburg, Brooklyn, and that's okay(ish). Although, my crusts will never be
quite
as impeccably blackened in spots as the ones that come out of the ovens at, say,
Roberta's
or
Motorino
, my little-oven-that-could does a good job at providing something different, but almost as good. And until I get my dream outdoor oven, I'm certainly not going to deprive myself of the joys of having friends over for a freshly baked homemade pizza. There's something great about setting up a little toppings station on your kitchen counter and watching people go to town coming up with their own special combos. Also, great: watching the excitement percolate as one amazing pizza after another comes out of the oven crisp and bubbling. Yum. This particular combo is one I came across on epicurious.com, and it's a good one, especially for these coming summer months. Because, clams. xo
Clam, Chard, and Bacon Pizza
From epicurious.com
Ingredients:
All-purpose flour (for dusting)
1 1-pound ball of pizza dough (I picked up mine from a great neighborhood pizzeria)
1 10-ounce can whole baby clams
2 slices thick-cut bacon, cut into 1"-wide pieces
3 garlic cloves, thinly sliced
2 tablespoons minced shallot
1 1-pound bunch Swiss chard, center stalks removed, leaves torn
Kosher salt and freshly ground black pepper
1 tablespoon unsalted butter, cut into 1/2" cubes
1 tablespoon white wine vinegar
1/2 teaspoon yellow cornmeal
1 tablespoon good-quality extra-virgin olive oil
1/2 cup finely grated Parmesan
Directions:
Preheat oven to 500°F. If your dough is frozen, do the following. If not, proceed to the next paragraph: Fill a large bowl with boiling water. Place a baking sheet over; dust with flour. Place dough on baking sheet; cover loosely with plastic wrap and let sit for 10 minutes to soften. Flip dough; cover and let sit 10 minutes longer.
Meanwhile, drain clams, reserving liquid. Cook bacon in a 12" cast-iron skillet over medium heat, stirring occasionally, until lightly browned, 4–5 minutes. Transfer bacon to a paper towel–lined plate. Add garlic and shallot to drippings in skillet and cook, stirring occasionally, until softened, about 2 minutes. Stir in chard and 1/2 cup reserved clam liquid and cook, stirring, until chard is just wilted, about 2 minutes. Season to taste with salt and pepper. Stir in butter, vinegar, and as many clams as you'd like. Transfer mixture to a medium bowl.
Wipe out skillet and heat over medium-high heat until very hot. Roll out dough on a lightly floured surface to a 12" round. Sprinkle skillet with cornmeal and transfer dough to skillet. Brush top of dough with oil. Cook, shaking pan occasionally and turning pan to avoid hot spots, until bottom of dough is golden and crispy, 6–8 minutes.
Spread chard mixture over dough. Bake until crust is golden and cooked through, 6–8 minutes. Scatter bacon and cheese over; cook just until cheese is melted, 2–3 minutes longer.