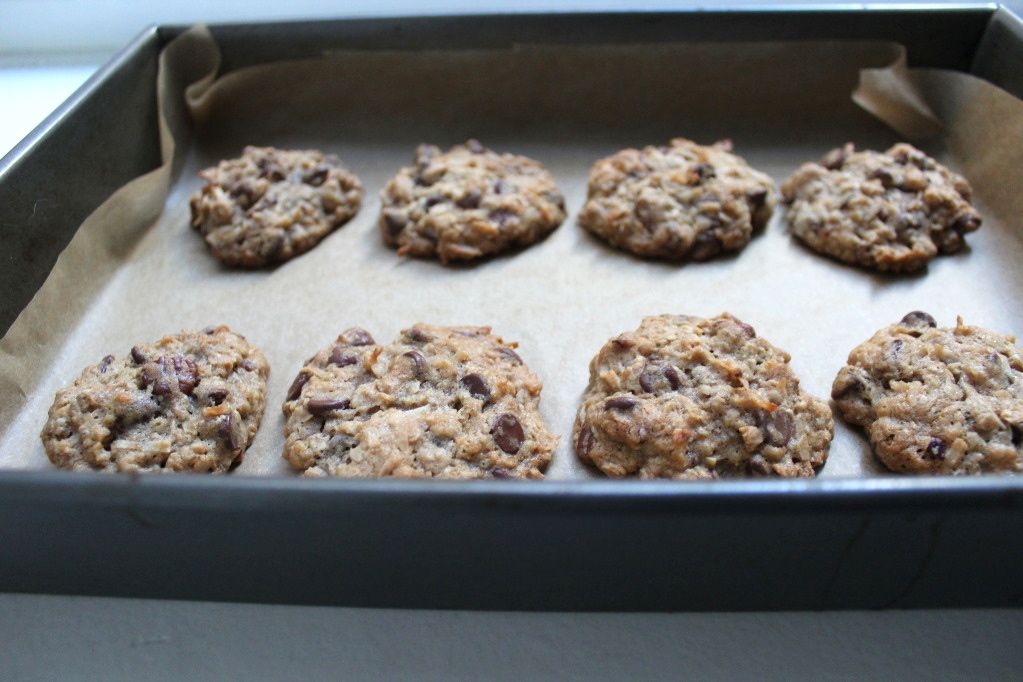 I've always been a little fascinated by the White House kitchen--how it's run, who crafts the menus and how,
Presidential favorites, et al. It especially strikes my interest when I hear about specific recipes that past (and present) First Ladies have in their personal arsenals. Such was the case with this delicious recipe, charmingly titled Cowboy Cookies. It's a favorite of former First Lady Laura Bush, and in it, she combines flakes of coconut, pecans, oats, and chocolate chips, making it somewhat of a compost cookie (everything but the kitchen sink, in other words). I don't know where exactly it originated from before Mrs. Bush, but it's definitely earned a frequent spot in my cookie rotation. xo
Cowboy Cookies
Makes 24 cookies
Ingredients:
3⁄4 cup flour
3⁄4 tsp. baking powder
3⁄4 tsp. baking soda
3⁄4 tsp. ground cinnamon
1⁄4 tsp. kosher salt
6 tbsp. unsalted butter, softened
6 tbsp. sugar
6 tbsp. light brown sugar
1 egg
3⁄4 tsp. vanilla extract
3⁄4 cup rolled oats
3⁄4 cup semisweet chocolate chips
1⁄2 cup chopped pecans
1⁄2 cup sweetened flaked coconut
Directions:
Heat oven to 350°. In a bowl, whisk first 5 ingredients; set aside.
In a large bowl, beat butter with a handheld mixer until smooth. Add sugars; beat until fluffy. Add egg and vanilla; beat until smooth. Add flour mixture; beat to form a dough. Stir in oats, chocolate, pecans, and coconut. Form dough into 24 balls; divide between 2 parchment-lined baking sheets. Bake until cooked through, 16–18 minutes. Let cool.