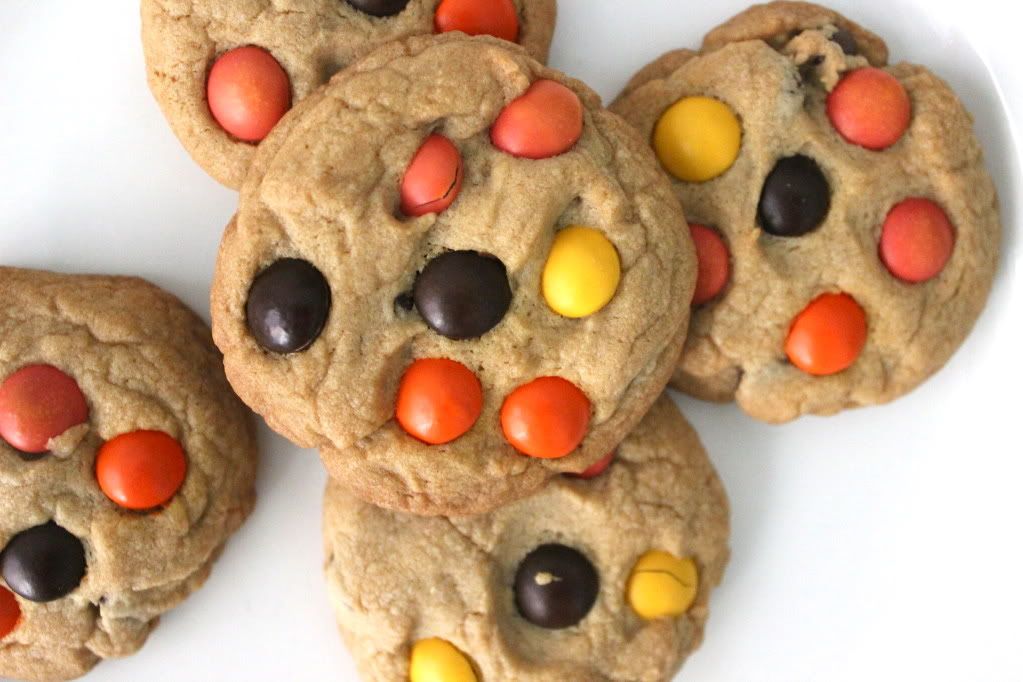 There's not much that can make a classic chocolate chip cookie better, but a scattering of colorful M&M's does the trick every time. This recipe is from
Dinner: A Love Story, by Jenny Rosenstrach
(which is quickly becoming one of the most-reached-for books in my cookbook collection), and it takes a fantastic chocolate chip cookie recipe (perfectly chewy, great texture, tastes just as good the next day, not too sweet) and makes it kid-friendly and even more fun to eat.
I brought small batches of these to a Sunday night dinner and then to the office the next day, and they were met with lots of enthusiasm and affection both times, proving that a good cookie recipe comes in handy when it comes to winning hearts and friends. P.S. I used an all-natural version of M&M candy from Sunspire, and they were delicious. xo
Playdate Cookies
Makes about 24 cookies
Ingredients:
1 1/2 cups all-purpose flour
1/2 teaspoon salt
1/2 teaspoon baking powder
1/2 teaspoon baking soda
1 stick (8 tablespoons) unsalted butter, room temperature
1 cup light brown sugar, tightly packed
3 tablespoons white sugar
1 egg
2 teaspoons vanilla extract
1/2 cup good quality chocolate chips
2 1.69-ounce bags M&Ms
Directions:
Preheat the oven to 375 degrees.
In a medium bowl, sift together the flour, salt, baking powder, and baking soda. In a separate bowl and using a wooden spoon or electric mixer, cream together the butter and sugars. Add the egg and mix until well combined. Add the vanilla and stir. Using a handheld mixer, add the dry mixture to the wet mixture gradually until all the dry mixture has been worked into the batter. Fold in the chocolate chips. Using your hands or two spoons, scoop small rounds of dough onto the cookie sheet about 2 inches apart from each other. Pour the M&Ms into a bowl and stick the candies into the dough rounds until they are all gone (if you have kids, this is a fun activity for them to do). Bake for 9-12 minutes, until they are golden.