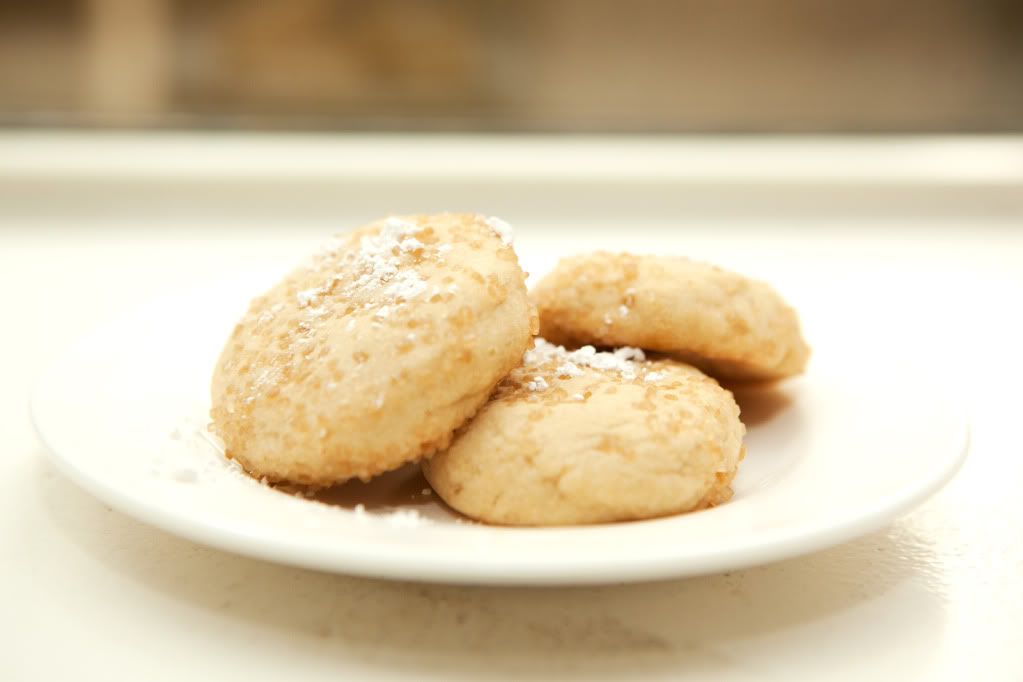 Here's a sweet little post to take you into the holiday. Everyone needs a solid recipe for classic sugar cookies--it's one of the only desserts that just about everyone can't help but like, and the cookies can serve as the base for lots of other delicious things, like mini ice cream sandwiches. I found this recipe on one of my favorite sites,
Food52
, and I have to say, it turns out a pretty great cookie. Lots of crunch, lots of chew, not too sweet, and the turbinado sugar gives them a fun sparkle. Picture by
Mark Iantosca
. xo
Chewy Sugar Cookies
Makes about 2 dozen cookies
Ingredients:
1/2 cup unsalted butter, room temperature
1/2 cup granulated sugar
1/4 cup light brown sugar
2 teaspoons vanilla extract
1 large egg
1 1/2 cup all-purpose unbleached flour
1/2 teaspoon sea salt
1/4 teaspoon baking soda
1 cup turbinado sugar, or coarse sugar
Directions:
Preheat oven to 375 degrees F. Line two large sheet pans with parchment p
aper.
Cream butter and sugars for 1 minute. Scrape sides of bowl. Continue beating for another minute. Scrape bowl again.
Add vanilla. Beat for 1 minute. Scrape sides of bowl. Add egg. Beat for 1 minute. Scrape sides of bowl. Add flour, salt and baking soda. Beat 1 minute. Scrape sides of bowl and beat for another minute.
Place course sugar in small, shallow bowl. Using a small cookie/ice cream scoop (mine is 1 ½" in diameter), scoop balls of dough and drop a few at a time in the course sugar and gently roll around. Place balls of dough on parchment, leaving about 1 ½" space around each. My pans fit 12 cookies very comfortably.
Do not press the balls down. This will ensure a chewy middle. Bake for 8 - 10 minutes, turning and reversing pans midway through baking. Resist the urge to bake your cookies longer, or they won't be chewy. The tops don't get much color, but the bottoms will be nicely golden.
Place pans on cooling racks. When cool, store cookies in air-tight containers.