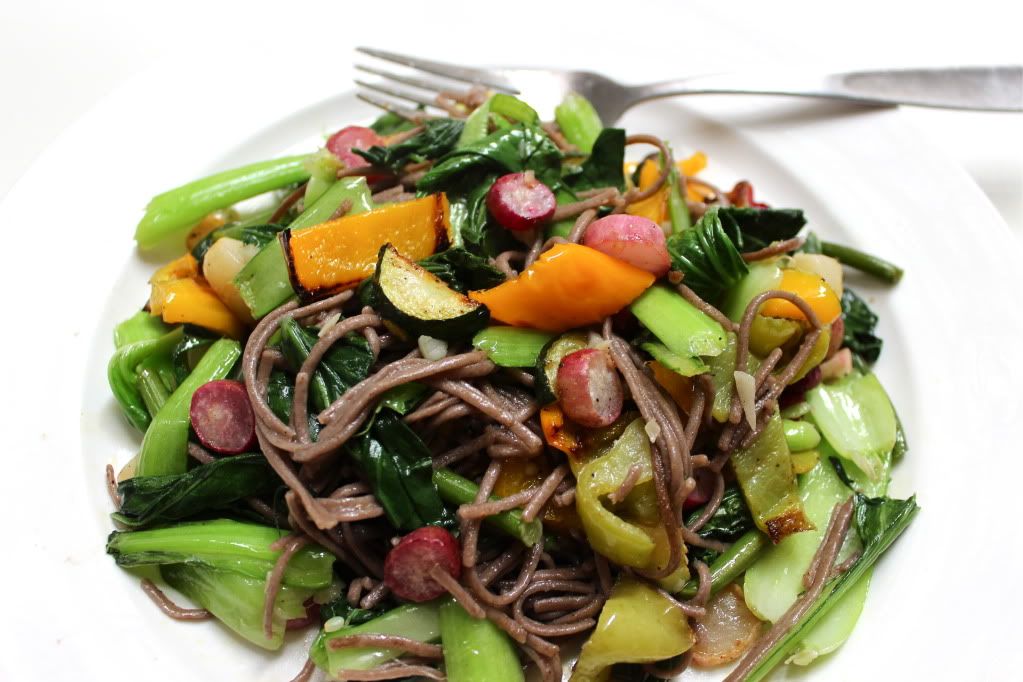 Something about this summer has put me into a veggie craze. I've developed more of a taste for vegetables in recent years, but I've always been a bit more of a protein and carbs (and sugar) girl (think steak and roasted potatoes, spicy Indian curries with lots of basmati rice, lasagna bolognese, etc.). I don't know if my tastes are changing with age, or if I'm just more excited about all the delicious warm-weather produce cropping up at the markets this year, but I've never been more into and experimental about all things green.
This super healthy dish was inspired by a recipe for Fried Udon Noodles I found in the Superhero Recipes section of Alicia Silverstone's book, The Kind Life. It's ease lies in the fact that you can really be flexible with it--throw in your favorite veggies, or just go with the ones that are on their last leg in your fridge. Use udon noodles, or do as I did and use up a package of soba noodles (which, incidentally, are packed with antioxidants and essential amino acids--so much better for you than regular pasta). Anything goes here. xo
Fried Soba Noodles
Serves 2
Ingredients:
1 (8-ounce) package soba noodles
4 tablespoons extra virgin olive oil
2 cups bok choi, chopped
1 sweet bell pepper, any color
6 medium radishes, chopped
4 garlic cloves, chopped
3/4 teaspoon fine sea salt
3/4 teaspoon freshly ground black pepper
Directions:
Preheat oven to 450 degrees.
Bring a large pot of water to boil. Add the soba noodles and cook until just al dente, according to package instructions; drain and keep warm.
Meanwhile, place the bell pepper and radishes in a small roasting pan, drizzle with a couple of glugs of olive oil and a bit of salt and pepper, and roast for about 10 minutes, or until the vegetables are nicely browned and soft, maintaining a little bite. Set aside.
Heat 2 tablespoons of oil in a large skillet over medium heat. Add the garlic and saute just until golden and fragrant, about 1 minute. Add the bok choi and cook, stirring occasionally, until very tender, about 10-12 minutes. Add the roasted veggies to the pan and stir to combine. Add the drained noodles and toss together until heated through. Serve hot.