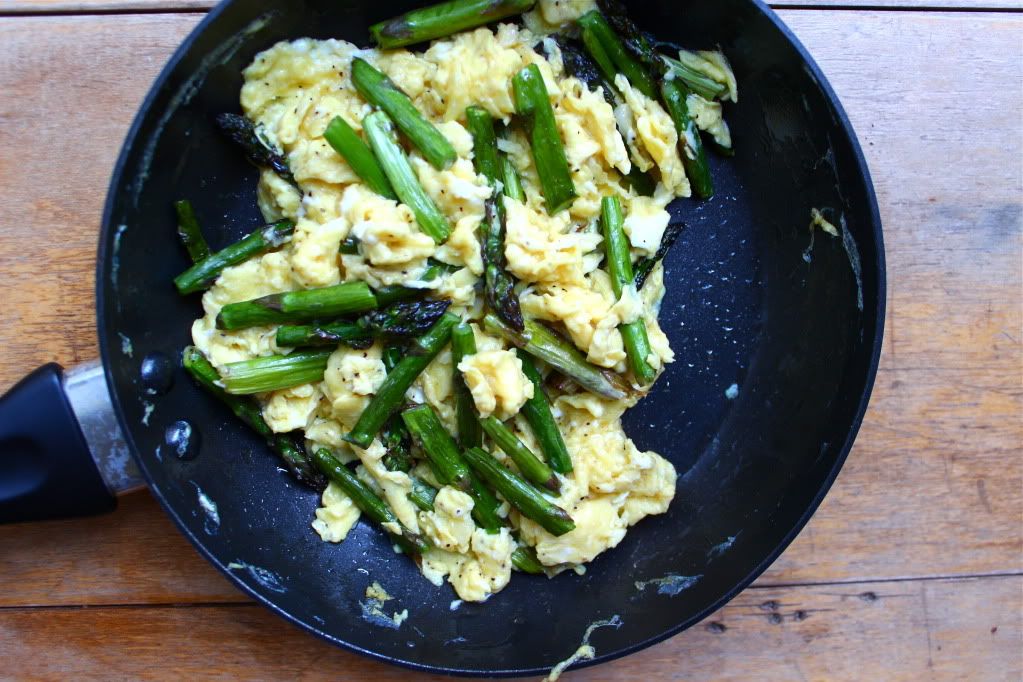 Following my broccoli rabe obsession, I am now on a crazy asparagus kick. There's this one stand at the Union Square farmers' market on Saturdays that sells the sweetest, plumpest, wild asparagus. The farmer spreads out all his spears on a big wooden table and lets you pick and choose which ones you want in your bundle. Seriously exciting stuff. The past couple of weekends, in my unbridled enthusiasm, I've come home with way too much asaparus for any (sane) person to handle, so I've had to get creative with ways to prepare it all. This is what you'd call a good problem.
On Sunday, I decided to quickly roast a small batch of my skinnier spears and fold it into fluffy scrambled eggs. End result? Best scrambled eggs of my life. This is like the souped up, totally gangster (gangsta?), spring-time version of breakfast eggs. They're awesome. One note: If you're working with wild asparagus, keep in mind that they'll cook faster than regular asparagus, so you'll need a shorter roasting time. The best thing to do is to just keep checking on it after about 7 minutes or so to make sure they've got some good bite left along with those delicious, soft, charred spots that are the whole reason for roasting anything in the first place. xo
Asparagus Scrambled Eggs
Serves 2
Ingredients:
3/4 pound asaparagus (wild, if you can find it)
Extra-virgin olive oil
Kosher salt
Freshly ground black pepper
2 tablespoons unsalted butter
2 cloves spring garlic, chopped
4 large organic eggs
Directions:
Preheat the oven to 450 degrees. Break off the tough ends of the asparagus cut them into 1-inch lengths. Place the asparagus pieces in a medium-sized bowl and toss with some olive oil, salt and pepper, until thoroughly coated. Spread the aspargus in a single layer on a baking sheet or roasting pan and
roast for about 15 minutes, checking on the spears occasionally after 7 minutes to see if they're done. They should be tender but still crisp.
While the asparagus is roasting, whisk the eggs in a bowl with a sprinkling of salt and pepper, to taste.
Melt the butter in a large skillet over medium heat. When most of the foam has subsided, place the garlic in the pan with the butter. Cook until fragrant, about 30 seconds to 1 minute. Lower the heat, and add the eggs to the pan. Cook the eggs, stirring constantly with a wooden spoon, until barely set. Fold in the roasted asparagus and serve hot.