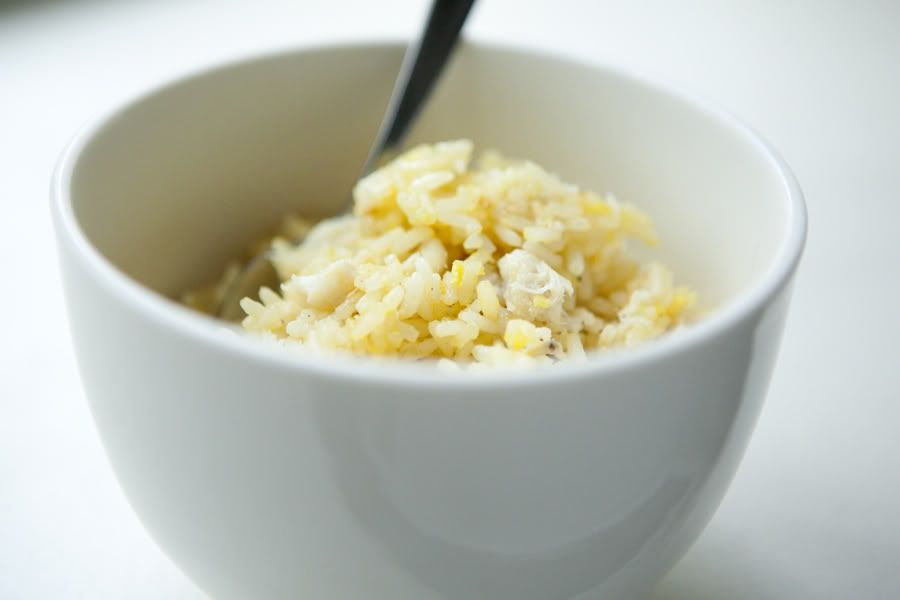 One of my ultimate comfort foods is a good, hot bowl of fried rice. I love Jean-George's version, which is served up at Spice Market topped with a crisply charred egg, I love the stuff I pick up once in a great while from Great NY Noodletown (my fave divey Chinatown restaurant), and now, I'm head over heels for this Crab and Garlic Fried Rice from Andrea Reusing's genius new cookbook,
Cooking in the Moment: A Year of Seasonal Recipes
.
Like most fried rices, this one is exceptionally simple and quick to make--I whipped it up in about 20 minutes flat, and devoured a big bowl of it in five. The leftovers were relegated to the fridge where I dubiously placed them when I couldn't eat another bite, thinking that there was no way it would be as good after a day or so. Well, folks, I was wrong. This is one of those dishes that somehow tastes even better the next day. A quick 45-second spin in the microwave, and it was good as new. Pretty perfect for a weeknight meal, wouldn't you say? Plus, it's summer--and that means you should eat crab any which way you can. Fact. Recipe below. All pics by
Mark Iantosca
. xo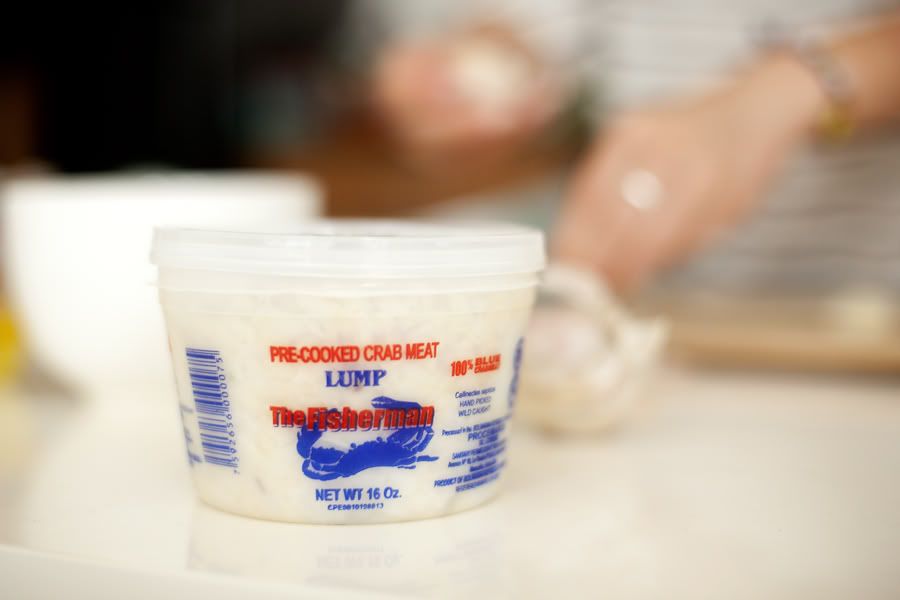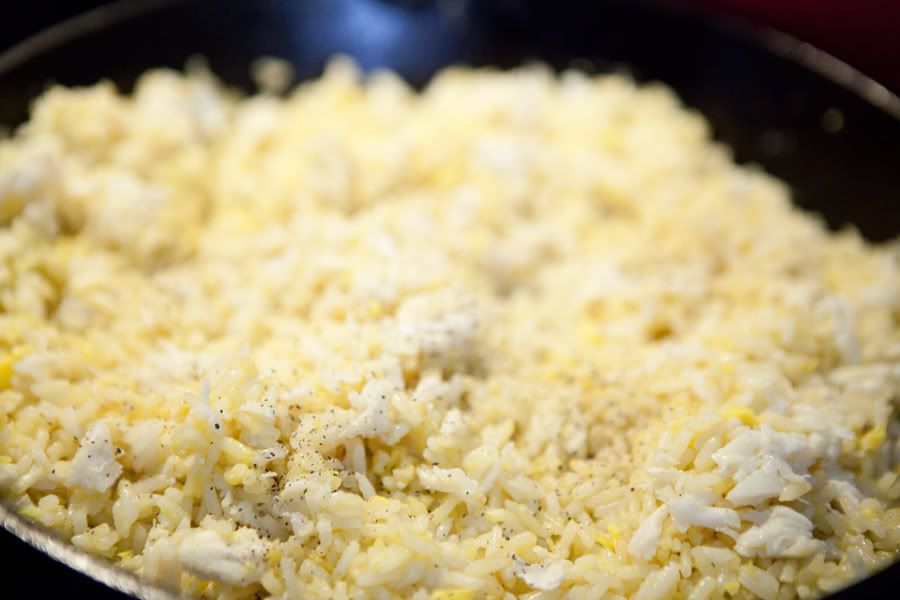 Crab and Garlic Fried Rice
From Cooking in the Moment: A Year of Seasonal Recipes, by Andrea Reusing
Ingredients:
4 cups cooked long-grain white rice, refrigerated for at least 1 to 2 days
2 tablespoons clarified butter
2 tablespoons chopped garlic
1 teaspoon kosher salt
5 large egg yolks, beaten well
6 ounces lump crabmeat, picked over for cartilage and shells (about 1 cup)
Directions:
Take the rice out of the refrigerator 30 minutes before cooking. Heat a small cast-iron skillet over medium heat. Add the butter and as soon as that gets hot, add the garlic. Cook for 1 1/2 minutes, stirring often, until the garlic is fragrant and just starting to turn light golden. Do not let it brown. Add the rice and salt, stir, and reduce the heat to low. Cover and cook for 3 minutes, stirring every 30 seconds or so, until the rice is hot.
Remove the lid and add the egg yolks. Stir continuously for about 2 minutes. Don't let the egg form a crust on the bottom of the pan--the idea is to coat all the rice with the egg and to let the egg just set but not scramble. The rice should look moist. Add the crabmeat and cook for 30 seconds. Remove from the heat, cover, and let rest for 1 minute before serving.