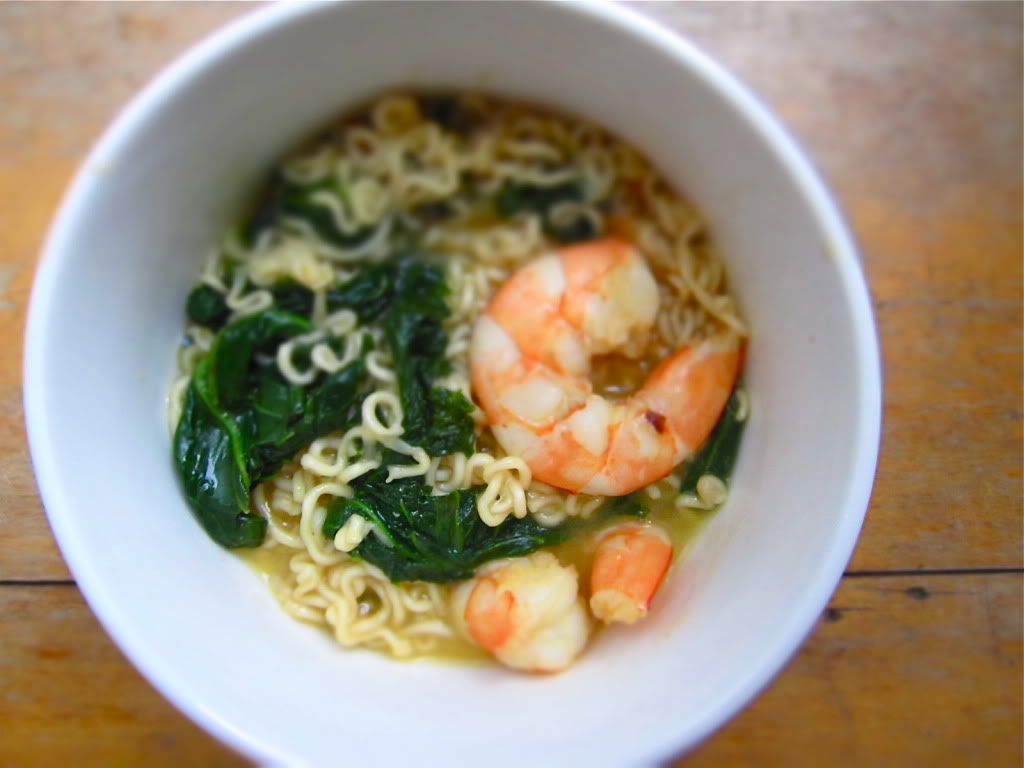 Remember the days when you were a college student (or, for that matter, a recent grad) when you didn't have the time or the cash to eat very well? And so you subsisted on instant ramen packets for more nights than you care to remember? I think that's where my love of ramen (preferably from Momofuku or Ippudo) comes from--it's so reminiscent of simpler, more freewheeling times. Surprisingly, I've never tried to make it myself--every recipe I see (
ahem
, Momofuku cookbook) seems completely insurmountable, involving loads of ingredients I've never heard of and days of cooking time I don't have. And there ain't no way I'm
ever
ingesting one of those chemical-laden instant packs again.
And so, when I came across this recipe for a homemade, healthier Shrimp and Veggie ramen in Candice Kumai's new cookbook,
Pretty Delicious
, I jumped right on it. It's a good compromise between David Chang's crazy ramen recipe and the aforementioned dreadful instant variety. It's incredibly quick and easy to prepare, and requires nothing more than some organic low-sodium chicken broth, a handful of dark leafy greens, some fresh shrimp, and noodles. Easy, peasy. Now get slurping. xo
Shrimp and Veggie Ramen
Adapted from Pretty Delicious, by Candice Kumai
Ingredients:
2 teaspoons canola oil
1 small yellow onion, halved and thinly sliced
3 cups low-sodium chicken broth
1 tablespoon reduced-sodium soy sauce
2 cups mustard greens
1 package ramen noodles (I used China Bowl Select Authentic Chinese Noodles, but you can also just buy a package of instant ramen and use those noodles, discarding the seasoning packet)
8 ounces medium shrimp, peeled and deveined
1 teaspoon Sriracha sauce (optional)
Directions:
Heat the canola oil in a medium pot over medium heat. Add the onion and cook, stirring often, until soft and translucent, about 3-5 minutes. Add 3 cups broth and 1 cup water and 1 tablespoon of soy sauce, increase heat to high. Bring to a simmer. Add the greens and the ramen and cook for a minute or two. Add the shrimp and simmer until the shrimp are opaque and the ramen is cooked, 2 or 3 minutes longer. Taste for seasoning, adding more soy sauce if needed. If you want it to have a little more kick, try adding a teaspoonful of Sriracha.