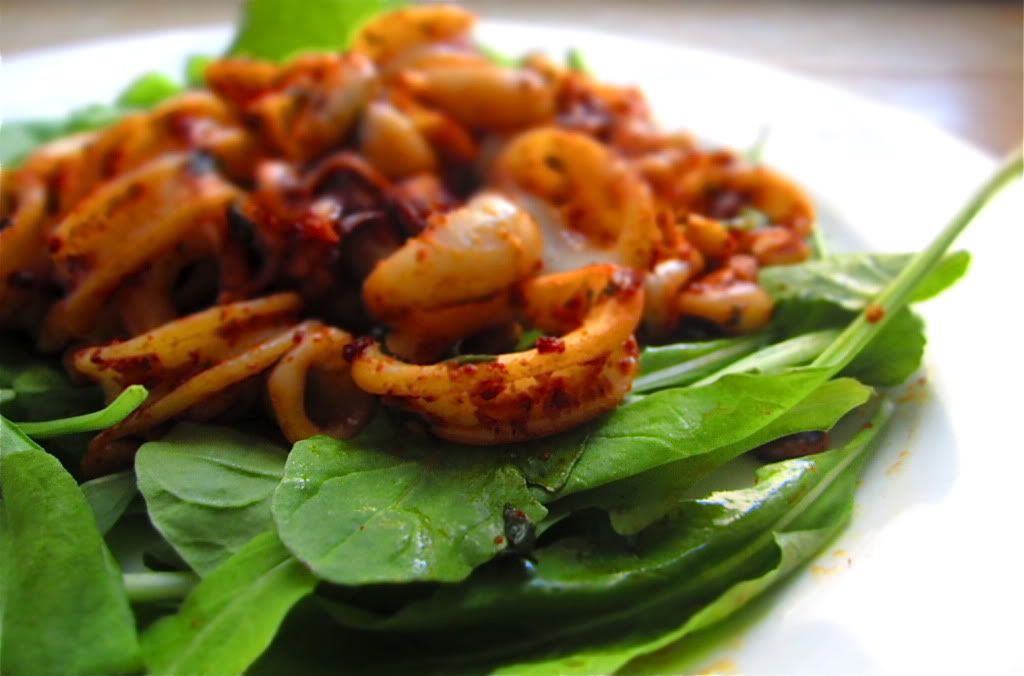 This is possibly the easiest, quickest recipe I have ever put together, which is saying a lot considering "easy" and "quick" are the cornerstones of ALL the recipes I publish here. It takes about 10 minutes to make and it's so delicious that you'll think twice about ever wanting to ingest a half-soggy, breaded and fried version of calamari ever again. This is much more healthful. And, dare I say, tastier. I guess not EVERYTHING is better fried, eh?
After a busy, hectic workday, go home, take off your shoes, and throw it together for a quick, completely stress-free dinner. Eat with a crisp, cool glass of Sancerre. Doctor's orders. (Recipe below serves 4. Divide as you see fit.) xo
Spicy Calamari Salad
Adapted from The Essential New York Times Cookbook, by Amanda Hesser
Ingredients:
1 pound cleaned calamari, sliced into thin rings, tentacles included
20 roasted, salted cashews, chopped
1 tablespoon minced cilantro leaves
1 tablespoon mint leaves
2 to 4 teaspoons Thai sriracha sauce, to taste
Salt and freshly ground black pepper
4 cups baby arugula or other spicy greens
2 tablespoons extra virgin olive oil
Juice of 1 lime
Directions:
Place calamari in a bowl. Add cashews, cilantro, mint and sriracha to taste and toss. Season with 1/2 teaspoon salt and pepper. Set aside.
Place greens in a shallow bowl or plate.
Place a wok or skillet over high heat, add oil and, when smoking hot, add calamari and seasonings. Stir fry about 1 minute, until calamari rings start to turn opaque. Add lime juice, toss, remove from heat, taste sauce and adjust salt and sriracha if necessary. Pour mixture over greens.