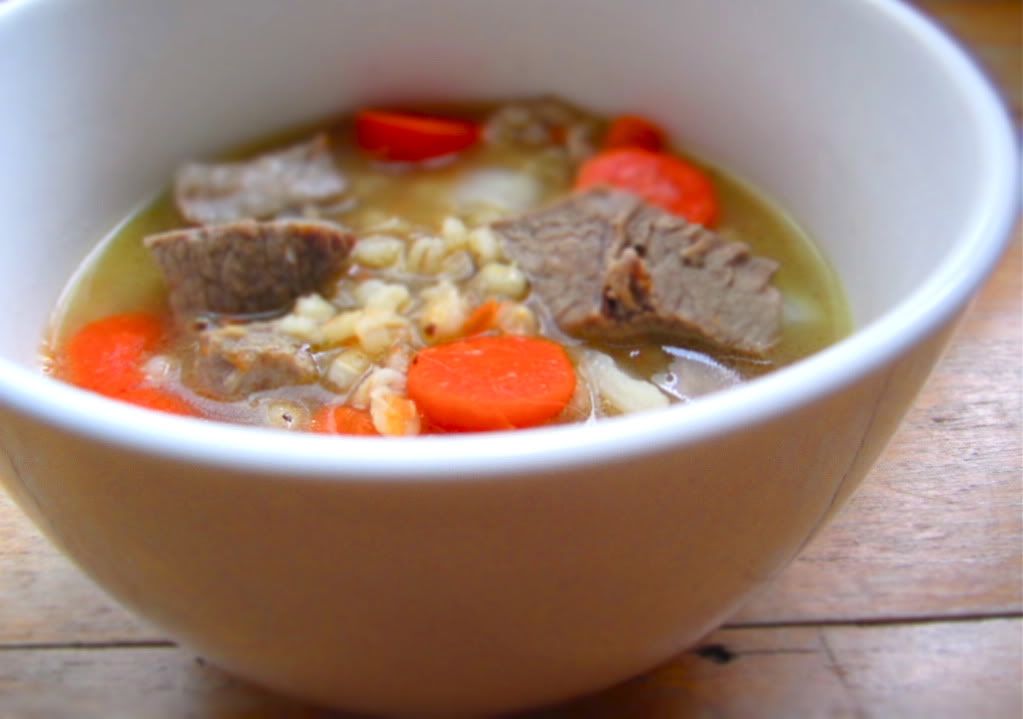 I've been on a soup kick lately, I know. When it gets this cold and this close to the holidays, all I want to do is simmer something hot and rich on the stove for hours and watch Sex and the City Season 4 reruns all day. Which is basically what my weekend consisted of. I skipped more than a few holiday parties in favor of pajamas and tea and La Mer night cream. Bah humbug. But in my defense, I was sick, and aiming to get better for all the festivities to come this week, including the birthday party of one of my dearest friends tonight.
I chose to make this soup, called Scotch Broth, based on the name alone (it's kind of fun to say, no?). It has no scotch in it, unfortunately (that would be some soup), but it comes from the Scots, hence it's moniker, and it is absolutely delicious. Made with loads of veggies and two pounds of lamb shoulder, it's a hearty, nourishing winter soup that took the edge off my sore throat and filled my kitchen with good smells. I made this recipe over two days to make it easier to skim the fat and I now have a big pot of it sitting in my refrigerator to sip on through the week. Pretty good, if you ask me. See for yourselves. xo
Scotch Broth
From The Essential New York Times Cookbook, by Amanda Hesser
Ingredients:
1/2 cup pearl barley
2 pounds lamb shoulder
2 tablespoons unsalted butter
1 cup finely chopped onion, plus 1 onion, peeled
1 clove garlic, finely minced
8 cups water
2 stalks celery, quartered
2 carrots, peeled and quartered
1 medium turnip, peeled
1 bay leaf
4 sprigs parsley
2 sprigs fresh thyme
Salt and freshly ground black pepper
Directions:
Rinse the lamb and drain. Melt the butter over medium-high heat in a soup pot. Add the lamb, chopped onion, and garlic and cook, stirring occasionally, until the onion starts to brown, 5 to 7 minutes. Add the water, whole onion, celery, carrots, turnip, bay leaf, parsley, and thyme. Bring to a boil, skimming the surface as necessary to remove the scum and foam. Partially cover and simmer for about 1 1/2 hours until the lamb is tender.
Strain the broth through a sieve lined with cheesecloth; save the lamb, carrots, and turnip. Return the strained broth to the soup pot and refrigerate overnight. Refrigerate the lamb, carrots, and turnip on a plate overnight.
The next day, the fat from the broth will have risen to the top and hardened, making it easy to lift off and discard. After you have done so, return the broth to the stove and bring it to a boil. Add the barley. Season with salt and pepper and simmer, partially covered, for 35 to 45 minutes, until the barley is tender.
Meanwhile, pull the meat from the bones and discard the bones. Cut the lamb into small pieces. Cut the carrots and turnip into match-like strips. When the barley is tender, add the meat, carrot, and turnip and reheat. Serve piping hot in bowls.