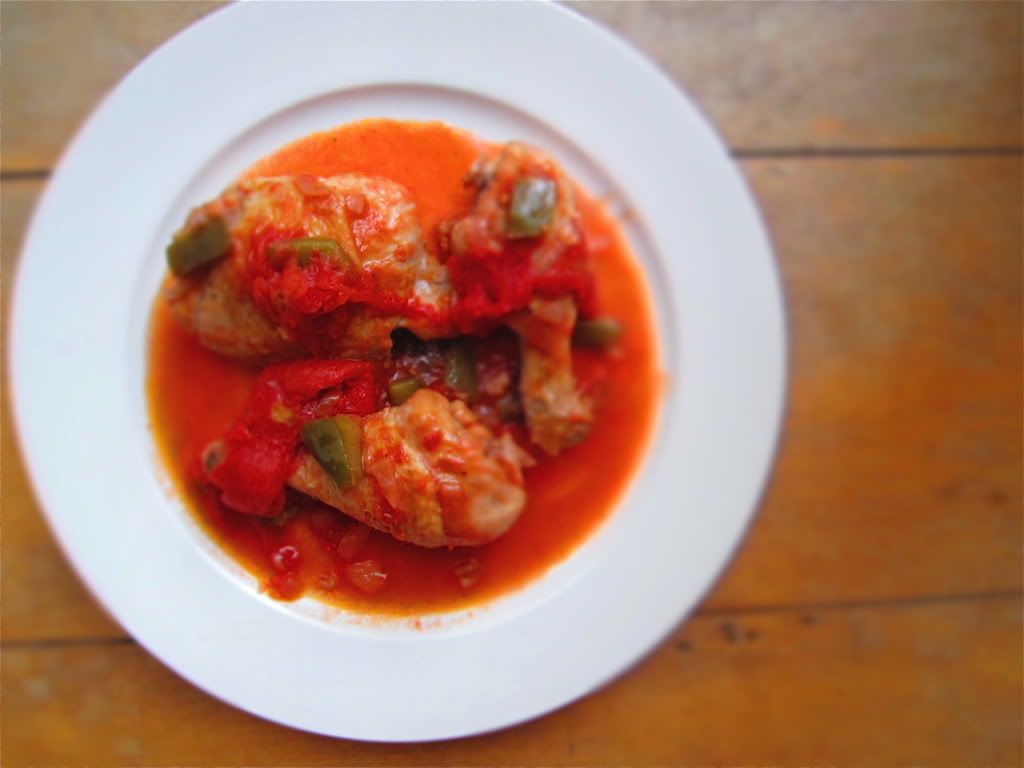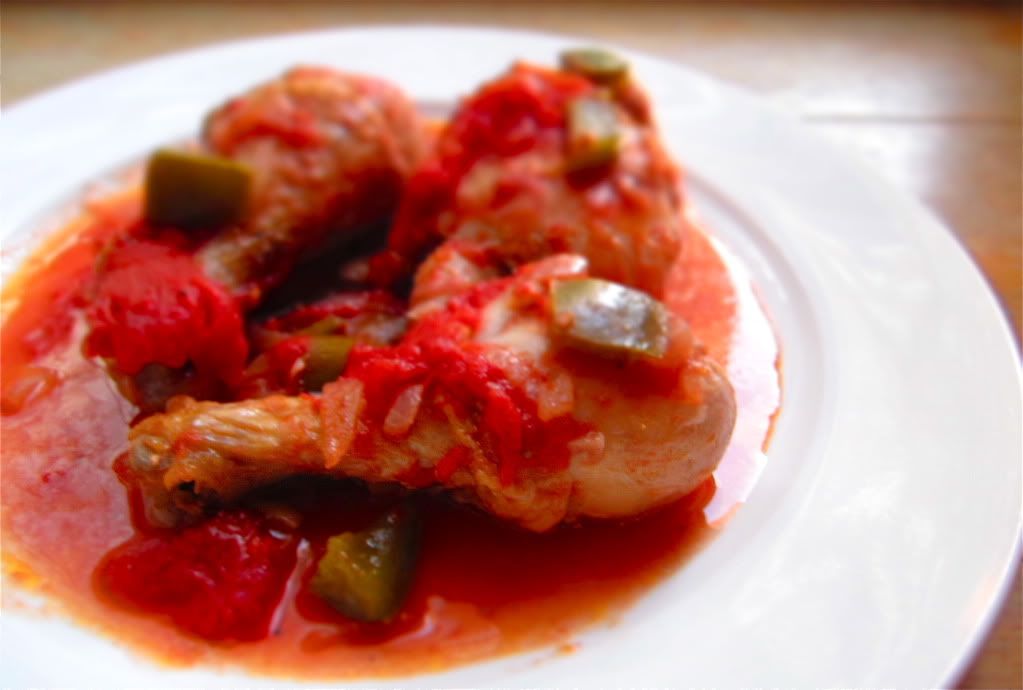 Here I go again with the hearty, stewy dishes that I JUST CAN'T SEEM TO STOP MAKING. I promise you that I will bake something sweet to post next week. And nothing that vaguely resembles a soup or a stew. Maybe I'll even throw in an all-veggie dish (stranger things have happened). But for now, I've got one last amazing, down-home, cold-weather recipe for you: chicken cacciatore.
This is a "hunter's stew" of sorts made from a whole chicken (I used chicken legs), tomatoes, onions, peppers, and some good red wine that will warm you right up during these cold days. The recipe below will serve a hungry group of four, or it will be enough for one w/ leftovers to last you a few delicious days. Serve it over a bed of noodles or rice. Talk about a dish designed to get you through the winter. xo
Chicken Cacciatore
Adapted from Gourmet, January 2006; originally published in 1948
Ingredients:
3 pounds of chicken legs, cut into 8 serving pieces
1 3/4 teaspoons table salt
3/4 teaspoon black pepper
2 tablespoons olive oil
1 large onion, chopped
1 green bell pepper, chopped, most seeds removed
4 garlic cloves, chopped
1/2 cup dry red wine
1 (28-oz) can whole tomatoes in juice
1/2 cup chicken stock or reduced-sodium chicken broth
Directions:
Pat chicken dry and sprinkle on all sides with 1 1/4 teaspoons salt and pepper. Heat oil in a deep 12-inch heavy skillet over moderately high heat until hot but not smoking, then brown chicken in 2 batches, turning over once, about 10 minutes per batch. Transfer chicken to a plate.

Reduce heat to moderate and add onion, bell pepper, and garlic to skillet. Cook, stirring occasionally and scraping up any brown bits, until onion and garlic are golden, 8 to 10 minutes. Add wine and simmer, scraping up brown bits, until liquid is reduced by half, 1 to 2 minutes. Add tomatoes with their juice and simmer, breaking up tomatoes with a wooden spoon, 5 minutes. Add chicken stock and nestle chicken pieces in sauce.