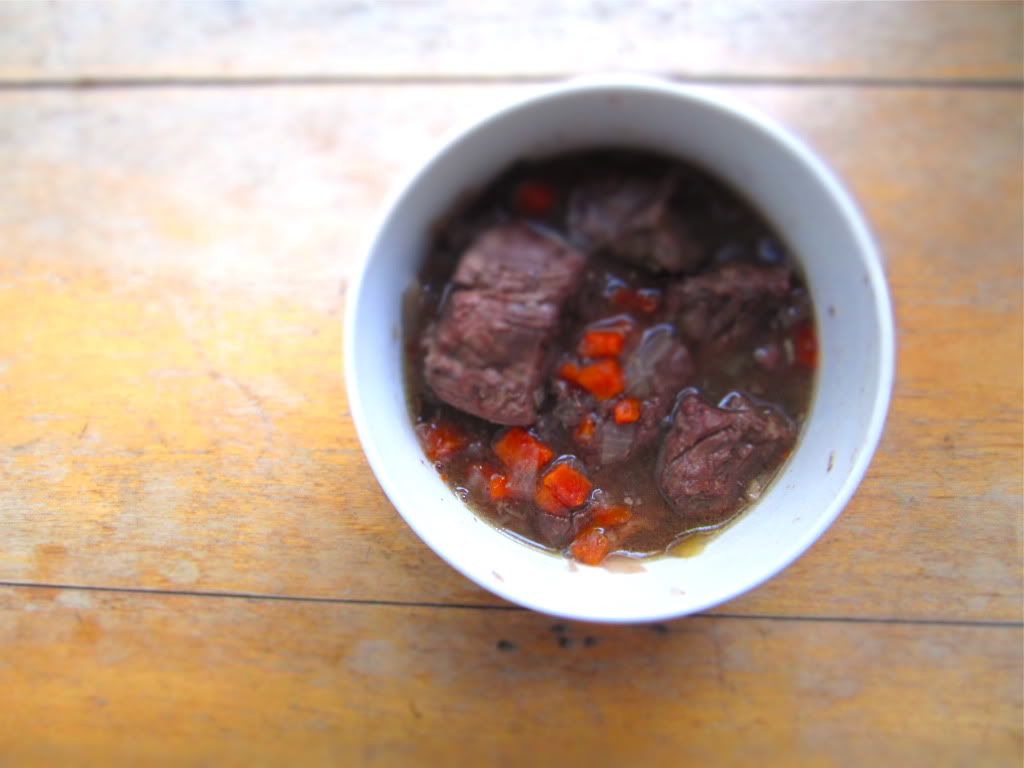 I realize that this is utterly, embarrassingly cliched, but ever since I saw the movie
Julie and Julia
last year, I have wanted to make boeuf bourguignon. But not just any boeuf bourguignon. I wanted to make a perfect, boozy, rich boeuf bourguignon that did the iconic dish proud; one that would turn out exactly the way Julie's would've had she not fallen asleep while it burnt to a crisp in the oven. I've dreamed of it, I've pored over countless recipes for it, I've watched videos of various chefs creating their own versions of it. But I didn't get up the courage or the gall to attempt it until last weekend. Armed with Amanda Hesser's tome,
The Essential New York Times Cookbook
, and a soup pot, I went at it with full concentration. And you know what? It wasn't as difficult as I had imagined all these months. It was actually, dare I say....quite simple.
The recipe I chose is the Boeuf Bourguignon 1 that Craig Claiborne first published back in 1960. It is the easier of the two versions in the book, and according to Hesser, the better one as well. All it takes is a lot of chopping and slicing and dicing and then layering the ingredients in your pot or casserole (the recipe called for a casserole, but lacking one, I used my trusty old soup pot) with a good half bottle of Burgundy poured over it and a bit of brandy thrown in for good measure. And then you just let it bubble away. I even took Suz Monster for a walk around the block while it was simmering.
The end result was a seriously luscious, oniony broth filled with fork tender chunks of beef that just gets better as the days go by. I am now on Day 4 and it's the best it's been so far. As the weather steadily gets cooler, the days shorter, and my hibernation instincts stronger, it's exactly what I want to eat: good, simple, comforting food that will warm my insides and make me smile with satisfaction. Definitely a keeper for my winter recipe arsenal. Try it and let me know what you think. xo
P.S. It turns out boeuf bourguignon is ridiculously hard to photograph--rest assured that the finished dish tastes at least twice as good as the photos make it look.
Boeuf Bourguignon 1
From The Essential New York Times Cookbook, by Amanda Hesser
Ingredients:
2 tablespoons vegetable oil (I used canola oil)
2 large slices of bacon (I used Niman Ranch)
1 1/2 cups diced carrots
One 2-pound boneless chuck cut into 1/4-inch thick slices
Salt and freshly ground black pepper
2 medium onions, coarsely chopped
1 clove garlic, minced
2 shallots, finely chopped
1/2 pound mushrooms, trimmed and chopped
1/2 bottle (750-ml bottle) Burgundy or pinot noir (get the best you can afford, it makes a difference)
1/3 cup Cognac (or good brandy)
Directions:
Pour the oil into a large casserole and add 3 slices bacon. Add the diced carrots and cover them with 1/3 of the sliced beef in a single layer. Sprinkle with salt and pepper. Sprinkle the meat with half the onions, garlic, shallots, and mushrooms. Cover with a layer of half the remaining beef and sprinkle with more salt and pepper. Add the remaining onions, garlic, shallots, and mushrooms and cover with a final layer of the remaining beef. Top with the remaining 3 slices of bacon. Pour the Burgundy and Cognac over all. Season with additional salt and pepper.
Place the casserole over high heat, and when it begins to simmer, cover and lower the heat. Cook for 2 to 2 1/2 hours, or until the meat is tender when tested with a fork.
Cook's Note: Don't worry if the booze doesn't seem to quite cover all the ingredients at first. The meat and veggies will "relax" after a few minutes and the liquid will be just enough to cover.