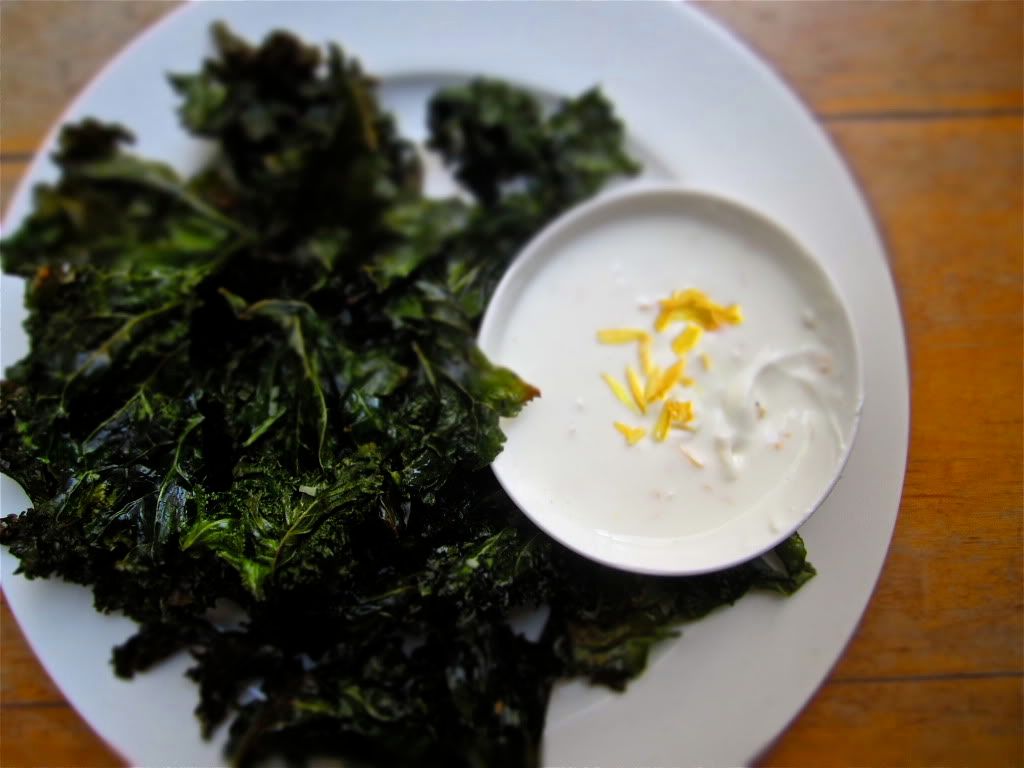 As someone who thinks about food around, oh, every six minutes or so, I really have to watch what I put into my mouth sometimes. I get into chocolate cake/apple pie/bread and butter crazes where I swear I black out and when I come to, plates of food have vanished and I have crumbs scattered accusingly along my lap. True story.
So, although I refuse to go on any sort of diet, I do try to inject the occasional healthy dish into my routine. And I also think it helps that I love cooking so much that I very rarely order in when I'm home. Anyway, lately I've developed a slight obsession with kale. It started when I ordered the raw kale salad at
Marlow & Sons
in Brooklyn. It was one of the best salads I've ever had, barely dressed with a light drizzle of oil and scattered with toasted nuts. It continued with a
kale soup I made
that I couldn't resist eating for just about every meal until my soup pot was scraped clean. And now it enters a third chapter with these healthy, paper-thin, light-as-air kale chips. The bonus? They filled my little apartment with the most delicious smell of roasting garlic goodness as they cooked in the oven. Yum.
Crispy Kale with Lemon-Yogurt Dip
Adapted from Food & Wine
Ingredients:
1 pound curly kale, stem and large inner ribs removed
1/4 cup extra-virgin olive oil
2 garlic cloves, minced
Salt and freshly ground pepper
1 cup fat-free plain Greek yogurt
1 teaspoon finely grated lemon zest
2 tablespoons fresh lemon juice
Directions:
Preheat the oven to 375 degrees. In a bowl, toss the kale with all but 1 tablespoon of the olive oil and half of the garlic. Spread the kale on 2 baking sheets and roast in the upper and lower thirds of the oven for about 15 minutes until crisp; shift pans from top to bottom halfway through. Season the kale with salt and pepper and transfer to a large platter.
In a small bowl, whisk the yogurt with the lemon zest and juice and the remaining garlic and 1 tablespoon of oil. Season with salt and pepper. Serve with the roasted kale.